Use the Danish National Archives in The Black Diamond
On 27 January 2020 the Danish National Archives moves to Det Kgl. Bibliotek where the two institutions will share the new common reading room.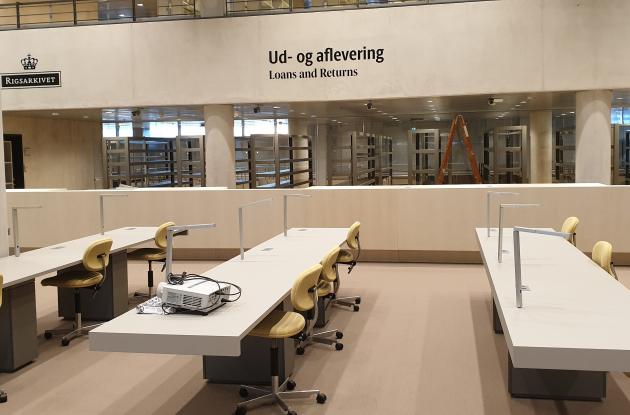 Trolleys of archive material from the Danish National Archive are rolling into The Black Diamond, Copenhagen. From Monday 27 January at 1 p.m., users of the Danish National Archives must view the material in the new common reading room that we call the Research reading room.
The architectural firm, Arkitema, has designed and managed the renovation of the library's former reading room, and we are now ready to welcome our users to a more contemporary reading room, that meets the demands of users and institutions. The new reading room is designed for users with different needs, there are e.g., two counters - one for users of Det Kgl. Bibliotek and one for users of the Danish National Archives.
Above the reading room, we offer free access to a range of reference books and collections of sources.
In relation to the opening, we are having a reception on 27 January at 10 a.m., where the Danish Minister of Culture Joy Mogensen, Director General Anne-Sofie Jensen and Chief Executive Svend Larsen will speak.
If you intend to use the Research reading room you are very welcome to come and celebrate the opening with us.