Man's best friend
If you stepped into Elfelt's studio, you would not be surprised if you bumped into a furry thing on four legs. Man's best friend, the dog, also had to have its portrait taken.
When you see pictures of Elfelt's studio, it is hard to imagine it as a place where dogs came and went. In the front room with its plush furniture and floor-length curtains, the distinguished women in hats and men in jackets and ties waited with their newly styled hair and well-groomed beards, but they waited alongside well-coiffed four-legged creatures. Among the thousands of portraits in Elfelt's collection, there are quite a few dogs. Dogs photographed with their owners, but also what can be called dog portraits.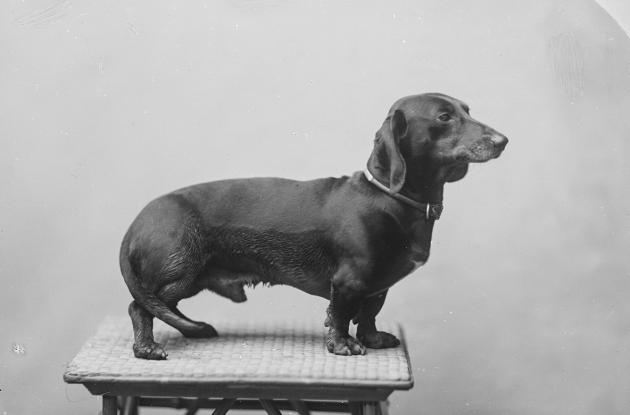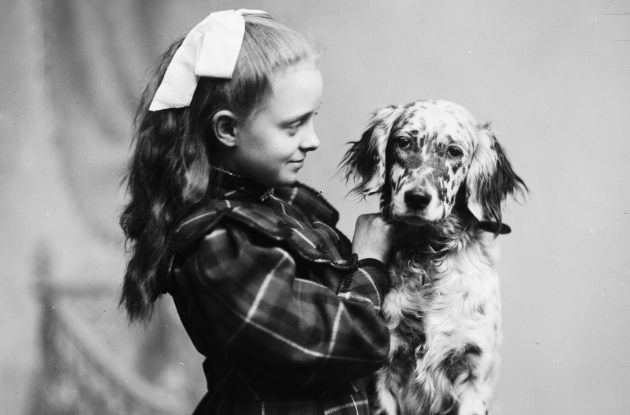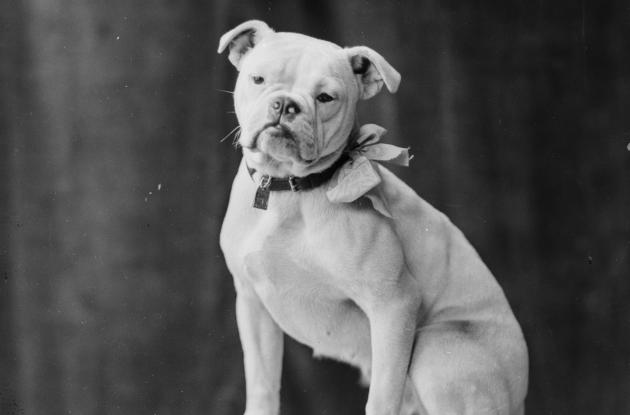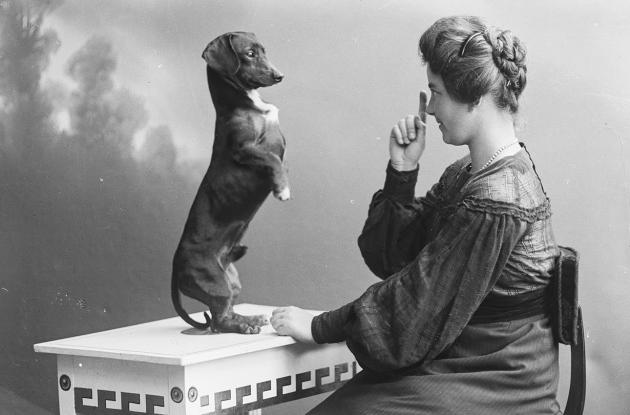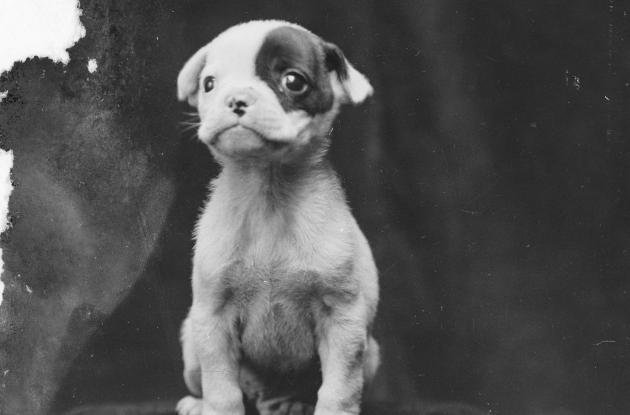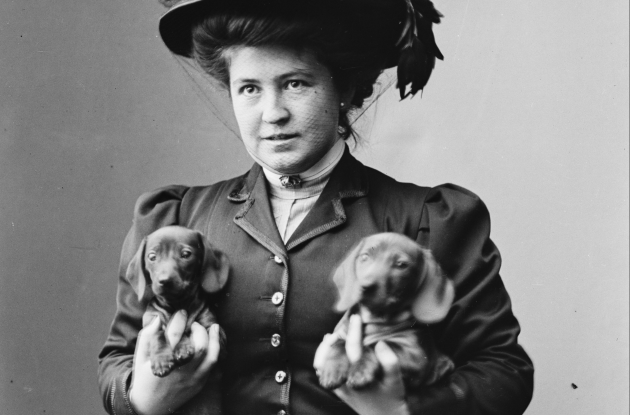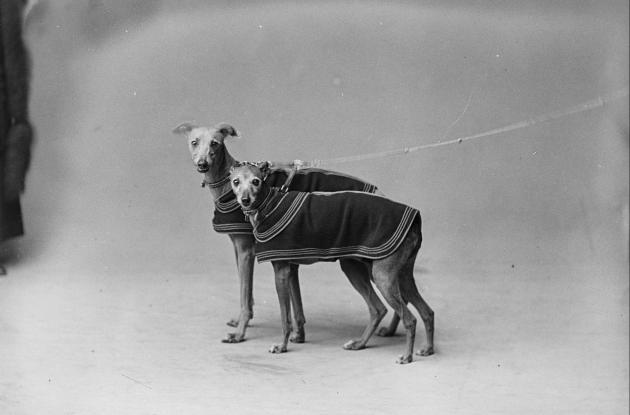 It is amusing to see all the pictures of the dogs with their different facial expressions - that is, if dogs can be said to have facial expressions. A dachshund with a sharp look and a pointer with downcast eyes. A Yorkshire terrier with its hair down in front of its eyes and a slightly mournful old Labrador. A chihuahua wearing a silk ribbon with a small heart around its neck.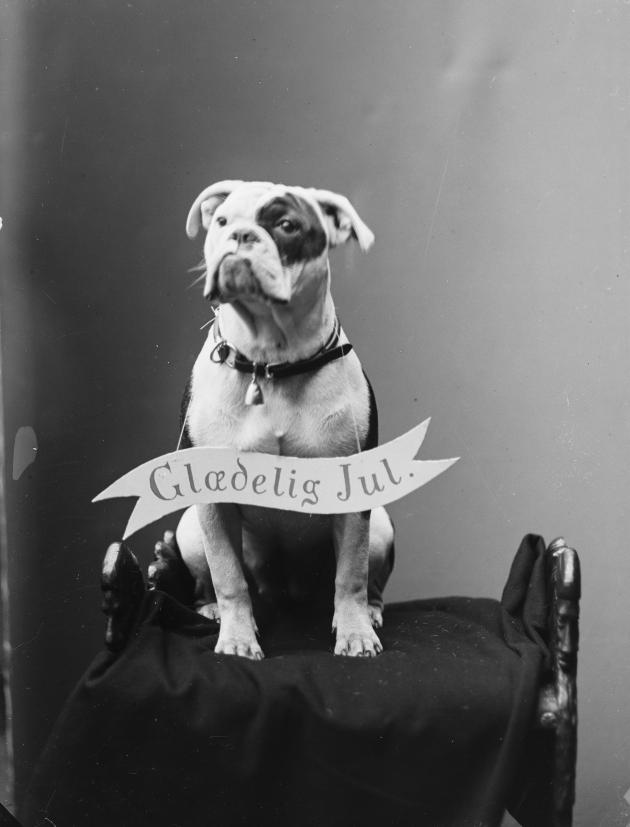 There is nothing new in having dogs in a portrait. In Romanticism, for example, many dogs appear in painted portraits, but especially next to royalty or other well-to-do families. The dog symbolises faithfulness, and a king with a dog in his portrait could signal trust and security towards the citizens of society. A dog also symbolises excess in the form of financial prosperity. That is why we see many paintings and photographs from around 1900, where the dog or several dogs are included in family portraits or next to their owner. Some images have been used for greeting cards and bear a sign with the text, for example, "Merry Christmas".
You could maybe expect that the dogs' names were given in the protocols, but this is a rarity. Sometimes the owners are mentioned, as in "Atelier photo of Countess Brockenhues-Schack's dog", but most often there is no name.
Pets
Then there are all the photographs with owners. Without saying too much, the pictures show that even more than 100 years ago, there were people for whom their pets "meant something to them personally". It was scientifically proven that this was the case in a large study in 2021, and the portraits here must be empirical evidence for a study in 1900. According to the study from 2021, the cat had for a short period overtaken the dog as the Danes' favorite pet, but that only lasted for a short while. There are many indications that the cat was not in the people's good books in Elfelt's time either. There is only a single portrait of a cat among the photographs, and that is of a girl holding a kitten. When Elfelt has taken pictures in the countryside, there are, on the other hand, many cats together with chickens, pigs and other farm animals. Maybe cats had not become real pets in the cities yet?
The Danish word for pet, "kæledyr", on the other hand, was not a term that was used often. Between 1890 and 1900, it was used only three times in the newspapers that are searchable in Mediestream.