How to find folklore and material about the culture of everyday life
Our archive of folklore tells the story of ordinary people's lives and contains the folktales, songs and traditions we share as Danes.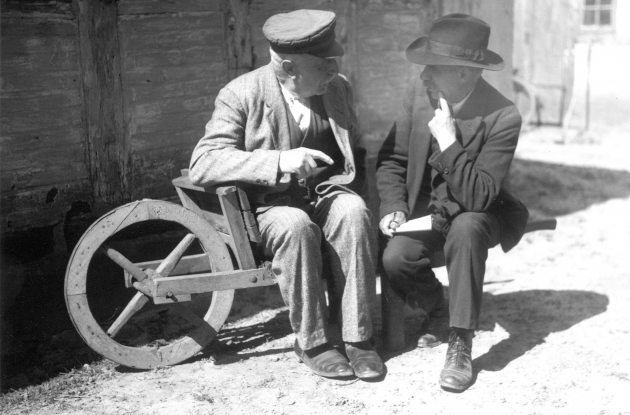 Royal Danish Library's folklore collection is Denmark's archive of folklore. We collect, preserve, explore and disseminate ordinary people's perceptions of life, memories, traditions, music and everyday stories.
The concept of folklore emerged in the 19th century as a term for the orally preserved traditions of people, but is used today primarily about the older material. Until the middle of the 20th century, we mainly focused on the culture of the rural population, but today the culture of all population groups is of interest, and we work with both historical and contemporary conditions.
Search and order
Most of our folklore and materials about the culture of everyday life are stored in our library vaults, but you can order them for use at the Research Reading Room in The Black Diamond. You can search for books, manuscripts and images in the library system. Expand the search field by selecting "search" in the top menu.
Once you have searched for a topic, title or keyword, you can select "Dansk Folkemindesamling" on the left side of the page under "Særsamlinger", if you want to narrow your search. You can also select the type of material if, for example, you only want to search for manuscripts.
We will send you an e-mail when the material is ready for you at the Research Reading Room.
Remember that you must always order the material before you show up at the reading room. You should also be aware that special rules apply to the use of the material in the reading room.
If you do not find what you are looking for, then write to Ask the library.
Non-circulatory material
The materials in the folklore collection are, as a general rule, available to everyone, but some material may be non-circulatory. That is, we cannot give everyone free access to it.
In some cases, a material will be non-circulatory because the person who gave us the material wants to restrict access to it. Other times, we deem it necessary to protect the material due to private circumstances.
The non-circulatory clause expires after a number of years, after which it is accessible.
How do you know if the material is non-circulatory?
If a material is non-circulatory, it is stated in the description when you order it. Write to us if you have questions about non-circulatory clauses and access to the collection or ask for an employee when you are at the Research Reading Room in The Black Diamond, Copenhagen.
Dispensation from non-circulatory clauses
In certain cases, we may make a dispensation for the clause for research purposes. Write to ask the library to find out more.