How to find architecture
We have collected around 300,000 architectural drawings from Danish architects. We also have architectural photographs, architects' archives, sketchbooks, architectural models and travel sketches.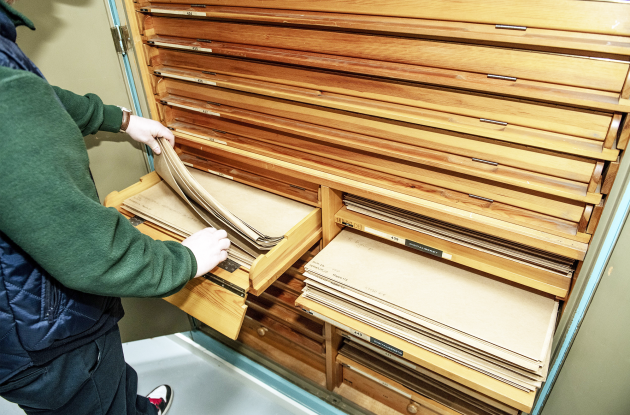 Search our digitised collections
The library has digitised a large number of materials from various collections within architecture. The material is collected in the digital collections, but the different types of material have their own subcategories in the menu on the left.
In addition to the library's extensive collection of digitised architectural drawings, we have digitised large parts of our collection of architectural photographs, architects' sketchbooks and architectural models. The easiest way to search is by combining the architect's name with a relevant project or street name. As far as possible, use only two keywords at a time, otherwise too many unwanted results may appear.
Search our physical collections
The library's collections of physical materials are for the most part registered in our library system. By using the search field at the top of the page, you can search by architect name, projects and topography as well as conduct searches of a more systematic nature.
If you use the facets on the left to filter your results, you can use the Special collections-->Architecture collections facet and thus only see results from the architecture collection.
All architectural drawings, architectural models, archives and sketchbooks can be searched, both those that have been digitised and those that have not. The physical materials can be ordered and viewed at the Study Hall in Søborg. Read more and book a time for your visit.
Trouble finding what you need?
If you are looking for architectural records, drawings and photographs that are not in the library system, please contact us. Tell us which buildings you are interested in and we will try to help you.