Collection of Prints and Photographs
We have both physical and digital images in the collection. They all come from Denmark or have some kind of connection with the country.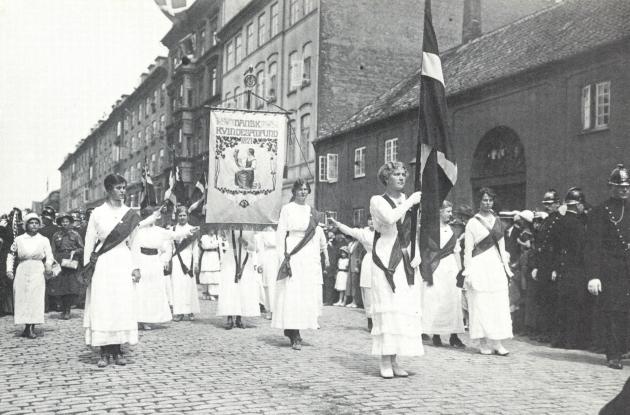 The collection of prints and photographs counts over 18 million physical images (positives and negatives). With its drawings, graphic prints and photographs of places, events and people, the cultural-historical portion makes up the majority of the materials.
The collection contains, among other things, copperplate engravings from the autocratic Denmark in the form of 'konferensråd' (obsolete Danish title) F.A. Müller's (1725-95) image collection, as well as landscape watercolours and drawings created by the industrial historian O.J. Rawert in the first half of the 19th century. The intense visual culture of the 19th and 20th centuries is richly represented in the collection.
The collection is divided into three main parts:
The portrait collection with portraits of Danish men and women
The topographical collection with pictures of places
The chronological collection with pictures of events
In addition, there are a number of special collections:
an album collection
collections donated by photographers, publishers, theatres and other companies
Sylvest Jensen's collection of aerial photographs (acquired in 1989)
The National Collection of Photography
The collection of Danish cartoon art
In the period 1904-1984, we registered the collection's materials on paper in:
1. a main registrant (accession protocol)
2. various filing systems
3. different registrants
In the mid-1980s, we began to digitally record parts of our image collection. At the same time, we started to digitise and make the materials available online:
Accession protocol (not retrospective, registered in an independent internal base)
2. The portrait collection (in the portrait registrant and in the library system)
3. Topographical collection (Copenhagen and Frederiksberg in the library system)
4. 1940-1945 in a chronological collection (in the library system)
5. The National Museum of Photography's collection (in Kunstindeks Danmark) (Notice that the material is also available in digitale samlinger)
6. Aerial photo collection (in An aerial view of Denmark)
Today, the library system is the main entry to the collection of prints and photographs. Here you will find both the digitised material and information on some of the material that has not yet been digitised (including the album collection, the portrait collection, and photos collected from 2017 and onwards).