The sheet music collection
We have a large collection of Danish and foreign sheet music. Some you can borrow and some you can only use in our reading rooms. It contains printed music, sheet music manuscripts and vocal material.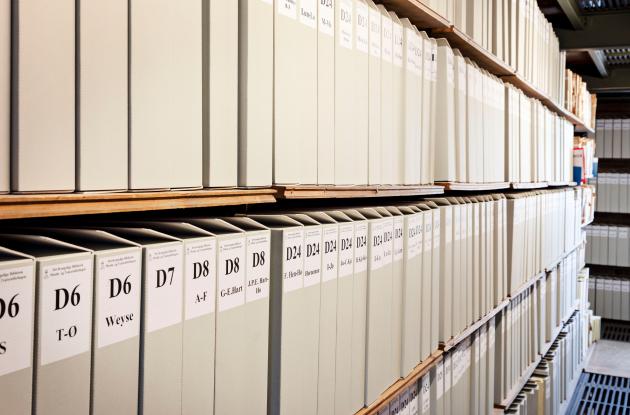 The collection goes far back in time, but the focus is on Western music culture from approximately the year 1500 to the present.
The main collections
Printed Danish sheet music
We have an almost complete collection of Danish sheet music prints. Some can be borrowed and brought home, while some can only be used at the Reading room on Victor Albecks vej, Aarhus or the Research reading room in The Black Diamond, Copenhagen. Danish printed sheet music that is over 100 years old and has not been digitised can be ordered as a free pdf. There is also digitised printed sheet music.
The sheet music can be searched for in the library system.
Foreign printed sheet music
We have an extensive collection that can be borrowed to take home, but also older sheet music for use at the Research reading room in The Black Diamond.
In the Research reading room in The Black Diamond, a number of series and composers' collected works for study use have been set up.
Sheet music manuscripts
Large collections from primarily Danish but also a number of foreign composers. Most are from the 1700s-1900s.
The sheet music manuscripts can be searched for in the library system and can only be used in the Research reading room. Some are the composers' own manuscripts, others are transcripts or - especially some of the older ones - are anonymous.
We also have sheet music manuscripts from theatres and music associations, among others.
Also note that the folklore archive has a large collection of handwritten songs and fiddler songbooks.
Digital sheet music
We offer a wide range of works online that are available for free.
We offer:
older printed music and sheet music manuscripts that have been digitised and can be for searched in the library system.
own publications of a practical-scientific nature, especially of Danish composers' works. These include the entire Carl Nielsen Edition and a number of other works, edited and published by the Danish Centre for Music Editing.
dance notebooks in digital collections.
The Orchestral Collection
Includes performance material (score, piano excerpts, instrumental and vocal music) for many works. Some can be viewed in the Research reading room in The Black Diamond, while a section of newer vocal material can be borrowed by Orchestra users.
We have vocal material from many theatres, ensembles and music institutions.
Special collections
People
Collections of sheet music manuscripts, but also printed sheet music from a large number of Danish composers or collectors.
In addition to the great composers, we have the following very significant collections:
chamberlain Giedde's collection of older flute music, and
guitarists Thorvald Rischel and Frederik Birket-Smith's guitar collection, as well as
the composers Henrik and Frederik Rung's music archive with particularly 19th century vocal music,
collector Evald Tang Kristensen's collection of fiddler songbooks and song melodies
Christian Olsen's (Torpelund) sheet music collection
Mention should also be made of HE Grosmann's collection of music from the 18th century, containing works by Telemann.
Most of the sheet music can be searched for in the library system.
Theatre
In particular performance material - mostly from Copenhagen theatres such as Casino, Dagmar, Nørrebro, Pantomimeteatret and, not least, The Royal Danish Opera.
In addition, a large collection from Aarhus Theatre. Some is printed, much is handwritten, and the music sheets can be searched for in the library system.
Institutions
Extensive sheet music collections from associations, institutions and publishers - both performance material and single sheet music. The collections concern, for example, Musikforeningen, Tivoli, Cæciliaforeningen, Wilhelm Hansens Musik-Forlag and Det Unge Tonekunstnerselskab.