Out of Africa - Blixen's autobiographical work
Karen Blixen's archive contains numerous letters, notes and, of course, manuscripts. Come along and take a look at the manuscript of what is perhaps her most famous book, Out of Africa.
Karen Blixen (1885-1962) is one of the most important Danish writers of the 20th century, and her life and work were closely linked. So close that the two can be hard to separate. She is an original narrator, and the uniqueness of her narrative style is most evident in her tightly composed short story collections, such as Seven Gothic Tales (1935) and Winter's Tales (1942).
However, it was the autobiographical portrayal of Out of Africa (1937) that made the person Karen Blixen famous - both in Denmark and abroad. The hundreds of letters, diaries, manuscripts and drafts in her archive give us a peek behind the facade of both the private person and the hard-working and ambitious author.
Out of Africa
Out of Africa was originally written in English and was published in 1937 in the United States under the pseudonym Isak Dinesen. If you look in Blixen's personal archive, you can see how she subsequently translated it into Danish by writing on top of the English manuscript. Her letters in particular reveal what inspired her to write the book after her plans to run a coffee plantation in Kenya had failed.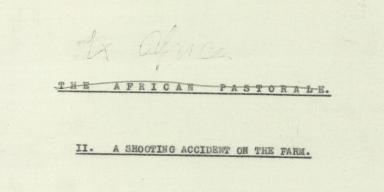 Out of Africa is Blixen's most famous work, and it has been translated into a large number of languages. The book depicts her encounter with Africa and her relationship with the natives. The story is a beautiful myth about a lost paradise, and it is a mixture of longer stories and anecdotes from Blixen's time on the coffee farm in Kenya. A farm she ran from 1914, but was forced to leave in 1931.
The artist who never were
Karen Blixen originally wanted to be an artist, and many of her sketches and drawings are preserved in her archive. However, she ended up becoming a writer and became famous as such during her lifetime. So famous that in 1985, Out of Africa was made into a movie starring Meryl Streep and Robert Redford. The film aroused new international interest in Blixen and her writing decades after her death.
Join us in the archive and take a look at the manuscripts for

Out of Africa
Dive into the script - Out of Africa: Visitors to the Farm
Please note that you can flip through the document.
Dive into the script - Out of Africa: A Shooting Accident on the Farm
Please note that you can flip through the document.