Food and beverages in The Black Diamond
Besides a great view of the harbour, our café offers delicious food and freshly brewed coffee in a pulsating and inspiring environment that gives room to both relaxation and immersion.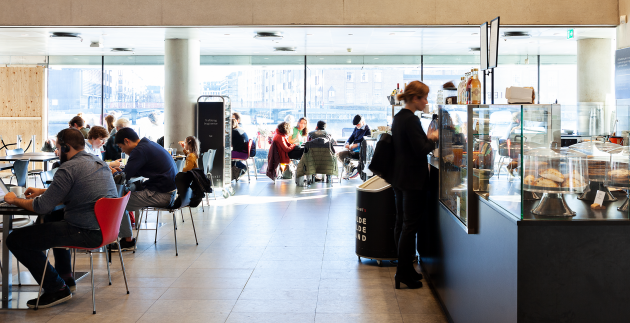 Café
The café is our welcome and gathering point for everyone in The Black Diamond, where the meeting between students, tourists, Copenhageners and staff of the the Royal Danish Library takes place. Here you can satisfy your hunger both mornings, noon and evenings, enjoy a wide selection of hot beverages and find something delicious for your sweet tooth.
Canteen
You can buy food and beverages in the library's staff canteen when it's open to the public.
Packed lunch
Packed lunch and beverages can be enjoyed at the tables by the Octagon, which is placed following the old entrance from the Garden of the Royal Danish Library.