The library as workplace
Learn more about what it is like to be employed at the library. We emphasise commitment, dialogue and motivation, and we also offer competency development and flexible working hours.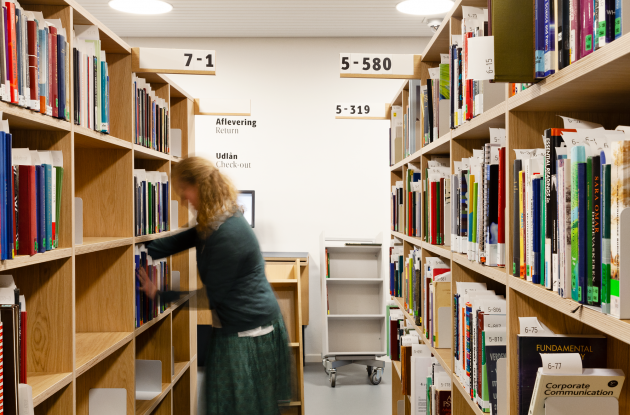 Your opinion is important
If you become our new colleague, know that your commitment is valued.
As an employee of the library, you are going to help ensure a high value for the users and the community together with your colleagues.
The library's management encourages all employees to think innovatively and to continuously participate in a dialogue about how we can improve and develop our services. It is important for us to bolster every employee's morale.
Thorough introduction to the whole library
When starting your new job, you will of course be given a thorough introduction to your area of work and to the part of the library your department is in.
We arrange a joint introduction for all new employees a couple of times a year. This introduction includes visits to our two main addresses, Victor Albecks Vej in Aarhus and The Black Diamond in Copenhagen, where you can meet the management and get a tour of the premises.
At least once a year, you meet with your personnel manager for an employee development interview. The goal of the interview is to support you as an employee in both your professional and personal development. You can of course also discuss this with your personnel manager when needed.
It is a goal for the library to develop all employees' skillsets, both through training, seminars or long-term continuing education, and by innovating current working methods and content to ensure modern solutions to our various tasks.
We strive to ensure a work environment with room for both recent graduates, family person and seniors. There is plenty of opportunity for you to organise your working hours to suit a balanced everyday life, so far as it fits with any shifts you may be required to work. We offer flexitime. It is usually also possible to make arrangements to work from home one day a week, if your tasks permit it.
Over the course of a year, you earn five weeks of vacation and five special vacation days.
We pay for a healthcare plan and this means that you can receive treatments from physiotherapists, for example. Our subscription to psychological help ensures that you can also receive support that way.
We have staff and art associations that regularly hold events - also on the initiative of the members. You can therefore have a say on these, if you are interested.