Educational history collection
The educational history collection consists of a selection of digitised and photographed items and records from the defunct Danish School Museum and from collections from AU Library, Emdrup.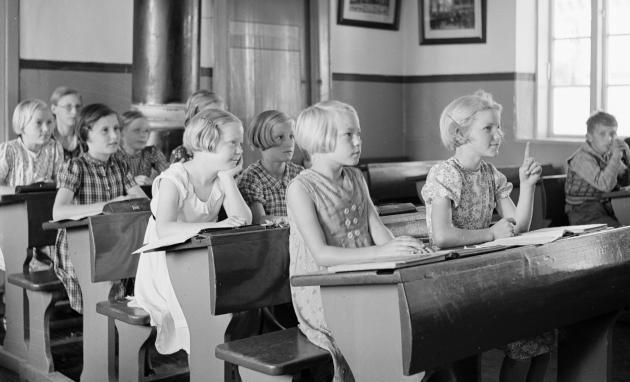 Among the various materials, you can have a look at Russian wallcharts, scrutinize the Circular of Sthyr, view photographs of school buildings from the past 150 years, or simply be inspired by educational material for the primary school.
Educational History is divided into six different collections which, to some extent, all have been digitised. 
Wallcharts
Models, also called wallcharts, were used in connection with perceptual learning, a part of the curriculum in Danish schools from the mid-1800s onwards. Our collection consists of approximately 12.500 Danish and foreign models, primarily from the period 1800-1950.
Historical collection of school photographs
The collection contains approximately 4.500 school photographs. In particular photographs of school buildings, interior decorations of schools, and school-related institutions, school children, student teachers, tools for schools, and paintings with school motifs which were previously part of the Danish School Museum's collection. Most of the photographs date from 1880 to 1960.
Trøst Hansen's Parish charts
A photographic presentation of more than 850 Danish Parishes with their local churches, priests, rural deans, teachers, schoolmistresses, and of course schools. The charts were collected and added together in the early 1900s, by wholesale dealer Trøst-Hansen. Unfortunately, the project was never finished.
School items
This collection contains photographs of educational historic items, that originally were part of the Danish School Museum's collection but are now found in museums across Denmark.
School laws
Overview of select Danish school laws from 1521 onwards. The collection covers laws in primary school and in part secondary school and the higher preparatory examination (HF), teacher training, and the social educator training.
History of pedagogical study collection
Collection of different materials covering the Royal Danish School of Educational Studies, the Danish Social Educator Academy, and The Danish School of Education up to the merger in 2000.
You can read more about the educational history collections on skolehistorie.au.dk
The teaching material is for use in primary school
A collection of individual training programmes on Danish, arithmetic, physical education, music, and art, ranging over three periods from the past 200 years. The material will give students an insight into the development of teaching, the changing of subjects, and perhaps most importantly, a better understanding of how their own schooling ended up the way it is today.