Karen Blixen - Behind the Scenes
Karen Blixen is one of the most important Danish authors of the 20th century. We take a little look behind the façade of both the private person and the artist.
Karen Blixen's autobiographical work "Out of Africa" (1937) made the author famous - both in Denmark and abroad. The book gives only a small insight into the life of a very remarkable woman, but the hundreds of letters, diaries, manuscripts and drafts in her archive, on the other hand, give us a glimpse of both the private person and the hard-working and ambitious artist.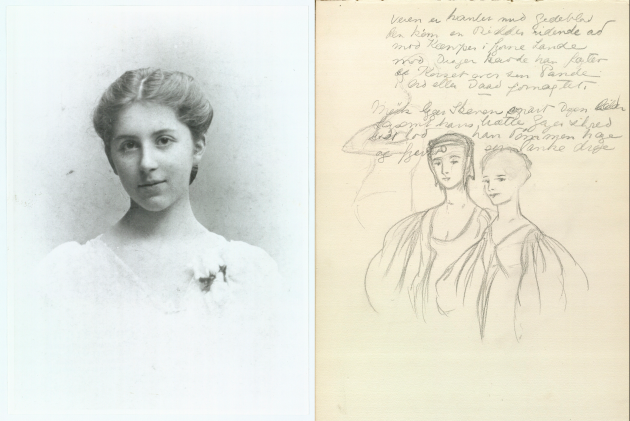 Karen Blixen's archive
Karen Blixen (1885-1962) lived at Rungstedlund all her life. All archival material has therefore been collected by Karen Blixen herself at Rungstedlund, from where it was sold in 1976 to Royal Danish Library.
When the library purchased Karen Blixen's archive, it was part of the general effort to preserve author archives for posterity. But it was also done with the clear recognition that this was an archive with a scope and of a quality that was quite unique.
Particularly because the hundreds of letters, diaries, manuscripts and drafts that Karen Blixen left behind provide an insight into and a more nuanced understanding of her life. Including the cost of her ambitions as a writer.
Of course, our knowledge of authorship is based primarily on the books she wrote. But the more comprehensive understanding of the driving force behind her writing, the hard work of developing her style as well as the background for the distinctive themes in her stories has been illuminated more through the papers left behind in her archive.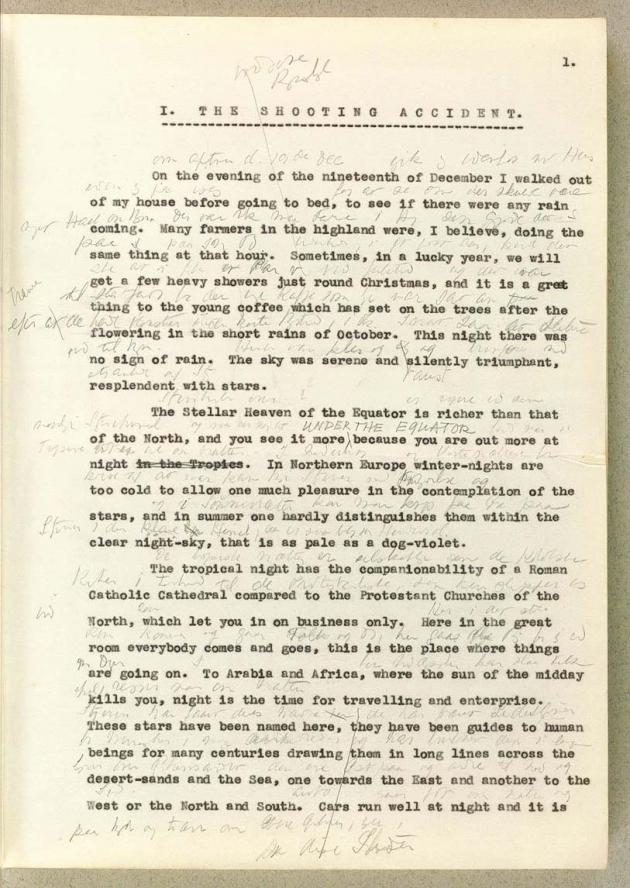 Behind the stories
Where Karen Blixen's originality as a narrator is perhaps most evident in the well-composed short story collections such as "Seven Gothic Tales" (1935) and "Winter's Tales" (1942), it was with the autobiographical story of "Out of Africa" (1937) that she gained the most readers.
The book is her most famous work, translated into and republished in many languages. The story is a beautiful myth about a lost paradise, based on a mixture of longer stories and anecdotes from Karen Blixen's time on the coffee farm in Kenya 1914-1931.
She first wrote it in English, where it was published under the pseudonym Isak Dinesen in the USA under the title "Out of Africa". Karen Blixen often used a different name when publishing books. When she used a different name, she could write exactly what she wanted without having to explain why she wrote it.
You can see in her archive how she then made the translation into Danish by writing on top of the English manuscript, and in her letters it appears that she first set out to write the book after her plans to run a coffee plantation in Kenya fell apart.
The myth versus the woman
Karen Blixen originally wanted to be a visual artist, and many of her sketches and drawings are preserved in her archive. But she ended up becoming an author, and one of the most famous Danish authors of all time at that. So famous that in 1985, "Out of Africa" was adapted into an American film of the same name starring Meryl Streep and Robert Redford.
There is no doubt that this film aroused new international interest in the author, but one can doubt whether Karen Blixen herself would have appreciated the film's romanticisation of her life. But it is evident that with her archive, we have the opportunity to go behind the myths that she herself and especially others have built up around her.
Karen Blixen was, as a woman and author, 'what myths are made of'. Her archive confirms this with its huge amount of tales, sketches for fairy tale characters, and letters and stories from Kenya. The archive simultaneously opposes the romanticised mythologisation that Hollywood created, and shows a more genuine and complex picture of this remarkable woman's life.
Dive into a selection of letters, diaries, manuscripts and drafts in Karen Blixen's archive in our digital collections. Most of the material is in Danish.