About the building at Victor Albecks Vej
In Royal Danish Library's yellow building at Victor Albecks Vej, Aarhus, you will find quietness to read, room for a break, and time to think.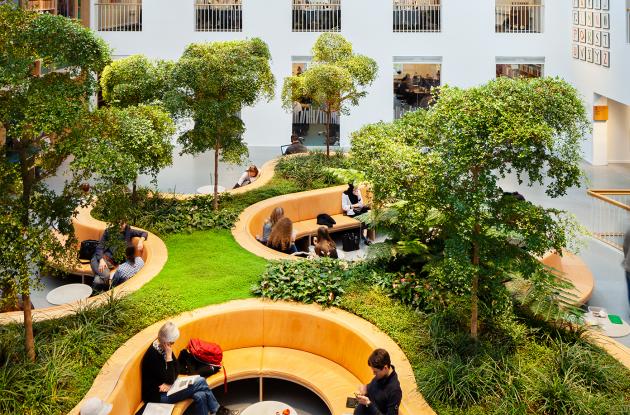 Royal Danish Library's building in Aarhus lies in extension of Universitetsparken, at the corner of Langelandsgade and Ringgaden. Most striking is the 45 meters tall Book Tower, one of the city's tallest buildings. The Book Tower is built mainly for storage and is therefore ordinarily closed to the public. The buildings are incorporated as a natural part of Aarhus University's buildings in the park, and the area has been internationally recognised as a unique campus area due to its architecture and location.
Facts about the building at Victor Albecks Vej
The building is designed by architect C.F. Møller and was completed in 1963.
In 2018, the library's public areas were updated under the headline: #BedreBibliotek (#BetterLibrary).
#BedreBibliotek included an interior library garden, sketched in cooperation with the architect group Arkitema, and a small oasis called 'Tænkepausen' ('Pause for Thought').
The Book Tower has 18 floors of which 17 are used for storage, while the 18th floor has a small 'museum' outfitted under the roof, which offers a look into the library's history.
Open Book Tower is held annually, featuring guided tours which include areas normally restricted to the public.