The manuscript collection
In the collection we have, among other things, letters, manuscripts and handwritten books. The oldest are from the early Middle Ages and the newest from our time.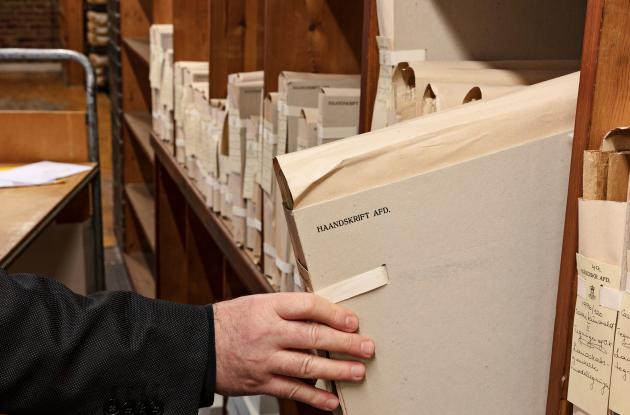 The manuscripts mainly shed light on European and Danish history, literary history and cultural history.
The collection contains handwritten books from before the invention of the printed book, archives from Danish authors, scientists, artists and cultural personalities, as well as material from cultural institutions and associations.
Search and order manuscripts
Go to search or use the search box that you unfold by clicking on the magnifying glass at the top of this page.
Search for e.g. author, title, subject or line-up signature
Select "manuscripts" under material types in delimited results
In "Advanced search" you can search for signature by selecting "Other classification" as search filter on the left and handwriting as material type on the right.
The information about a manuscript can be very concise. This is because the contents of the manuscripts and personal archives have often also been registered in other ways, for example in printed catalogues and registrants. Many letters in the individual personal archives are also registered and can be found individually. See our guide How to find letters.
Previously, you had to find the manuscripts using a series of handwritten and printed catalogues and overviews of the collection.
Today, in most cases you can instead search for and order the manuscripts digitally in the library system, but be aware that the information often originates from the handwritten systematic catalogue of the manuscript collection, which in the years 2004-2010 was transferred to the digital format without being revised.
This means that the wording often originates directly from the 18th and 19th centuries and may have been written in various languages, including Latin. It also means that in some cases you will need to find additional information in printed catalogues. We continuously improve the records and are happy to receive corrections and suggestions for improvements via the Ask Library.
Particularly about searching and ordering manuscripts in Aarhus
To order materials that we have in our Aarhus manuscript collection, you must use the registrant to see what we have in the collection. You can order the materials by writing to Ask the Library.
Note that materials from this part of the manuscript collection can only be used in our reading room in Aarhus.
About the manuscript collection
The manuscript collection in Copenhagen has archives by Hans Christian Andersen, Søren Kierkegaard, Anna Ancher, Georg Brandes, Karen Blixen, Tove Ditlevsen, Carl Nielsen and Inger Christensen, among others, and in Aarhus and Copenhagen we have material by Johannes V. Jensen, for example.
The manuscript collection in Copenhagen covers more than four kilometres of shelves, and it consists of both handwritten books and archives. Some manuscripts are on parchment, but most are on paper. The personal and institutional archives may also contain photographs and objects received with the papers. In addition, we have material on microfilm as well as photographs of manuscripts.
In Aarhus, we have a small collection mainly with archives from teachers at Aarhus University, including Jørgen S. Dich, professor of economics, Theodor Geiger, professor of sociology, Grethe Hjort, professor of English philology, Jens Kruuse, critic and associate professor in comparative literature, Peter Skautrup, professor of Nordic languages and Adolf Stender-Petersen, professor of Slavic languages and literature.
In addition, Aarhus also contains letters, manuscripts, books and other papers from authors, theologians, librarians, historians, lawyers, genealogists and more.
How to refer to manuscripts
When making references to manuscripts, in addition to the author and title, you should use the manuscript's signature or number. In the library system, the signature is referred to as the work ID. If there are several volumes or boxes, it is also important to refer to the number of the volume or box.