Denmark's first female architect
Agnete Laub Hansen (1886-1970) was the first woman to be educated at the Royal Danish Academy of Architecture in 1915. We are showing drawings from Denmark's first female architect.
In the summer of 2020, the Royal Danish Library – Art Library received a donation consisting of a folder with drawings by Agnete Frederikke Laub Hansen, the first woman to graduate from the Royal Danish Academy of Architecture in Copenhagen in 1915 – the same year that women in Denmark got the right to vote for Parliament.
The folder with drawings is the only known evidence of Laub Hansen's work as an architect. They are therefore of great importance. Often, female architects can be difficult to trace in archives because they did not sign with their own name. It was common practice for drawings to be signed with the design studio manager's name, if they were signed at all.

When Laub Hansen is mentioned in the history of architecture, it is most often as the wife of the architect Henning Hansen (1880-1945), as the mother of the architects Hans Henning Hansen (1916-1985) and Holger Henning-Hansen or as the sister of the architect Thomas Havning (1891-1976).
But Laub Hansen was also an architect in her own right, in fact the first of her kind.
Who was Denmark's first female architect?
Laub Hansen had attended the Art School for Women. From 1888 to 1908, this school was the place where women could receive instruction in visual arts. It was not until 1908 that the school merged with the Royal Danish Academy of Fine Arts at Charlottenborg, so that men and women finally had equal access to an artistic education.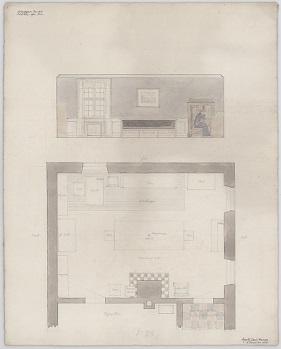 Laub Hansen began her education at the Royal Danish Academy of Architecture in 1908, and she graduated on 1 May 1915. Immediately afterwards, she married the architect Henning Hansen and became a housewife. It put an end to her work before it had ever really begun.
The drawings by Laub Hansen are from the period 1908 to around 1946. They consist of both small sketches from travels and larger drawings with watercolour. Most of the drawings are from her student days. All the drawings have been digitised and can be seen in the digital collections.
The fact that Denmark got its first female architect was also an event that was mentioned in several Danish newspapers, from Herning Folkeblad to Fyens Stiftstidende to Nationaltidende, on 2 May 1915, where it is written:
"We have also gotten our first female architect! It is Miss Agnete Laub-Hansen, who yesterday passed the Academy's final exams for architects [...] The female architect has worked with Professor Martin Nyrop and architect Jensen-Klint. With Nyrop, she has participated in the work on Bispebjerg Hospital, with Klint in various competitions. So far she has had no independent work, but after all, she is only just starting to get serious."