Nationaldiskoteket
Nationaldiskoteket is our collection of published music and speech. It documents Danish music history from the first recordings made in the 1890s to today's digital releases.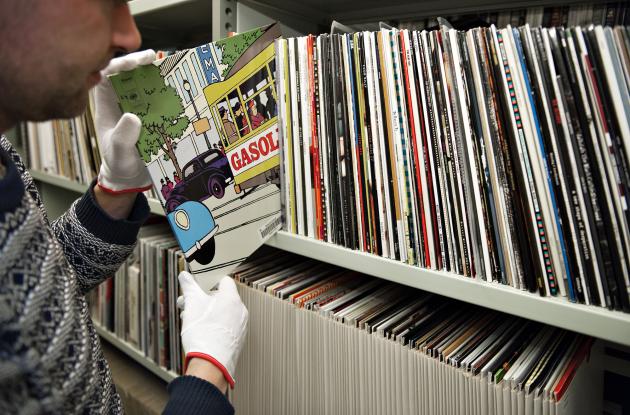 The history of the collection
The collection was originally handed over to us from the National Museum in 1989. At that time, it consisted of 175,000-200,000 units. In the material we received, there were both Danish and foreign publications.
The collection has its roots in "Statens Arkiv for historiske Film og Stemmer", which journalist Anker Kirkeby created in 1913 by making a series of sound recordings with famous men's and women's voices for preservation for posterity. This was done in collaboration with Skandinavisk Grammophon Aktieselskab, the Danish branch of the British record company His Master's Voice.
Subsequently, Skandinavisk Grammophon donated a selection of what the company had in stock of gramophone records with Danish artists, and the same was done by Dansk Fonograf-Magasin for the phonograph cylinders. Thus, the collection was created.
Over the years, new media types were added, for example by the transition from shellac to vinyl, so when we were given the collection from the National Museum in 1989, it consisted of both Danish and foreign publications in a range of 175,000-200,000 units divided into different media types.
Collection
Since 1997, as part of the Danish Legal Deposit Act, we have collected copies of all commercially published music and sound in Denmark. This is done to safeguard the audiovisual cultural heritage. This means that the collection contains published material where, for example, performer, composer or lyricist has a connection to Denmark.
Everything is collected, and no distinction is made between genre, quality of workmanship or the relevance of the content.
The releases are on different types of media, for example phonograph cylinders, shellac, vinyl, cassette tapes, CDs and most recently digital files.
Today, the foreign publications are sorted from the collection and they can be borrowed by our users. The collection, which is constantly growing, now consists of more than 160,000 units.
The contents of the collection
The collection today consists of the following media types
Wax cylinders - approximately 700 recordings from the period 1901-1915
Shellac records/78s - approximately 70,000 units from the period 1899-1958
Vinyl records - approximately 20,000 units from around 1950 and onwards
Singles - approximately 12,000 units from around 1954 onwards
Cassette tape - approximately 7,500 units from around 1970 and onwards
Cd - approximately 48,000 units from 1985 onwards
Audiobooks - approximately 4,000 units from 1998 onwards
At the handover in 1989, we were not only given the large collection of music released on shellac and vinyl records, but also a number of unique sound recordings. You can read more about them in our description of audio recordings in the collections.