About the building: The Black Diamond
The buildings on Slotsholmen, better known by the name The Black Diamond, are more than just a popular library. The buildings have a long history that everyone is welcome to explore.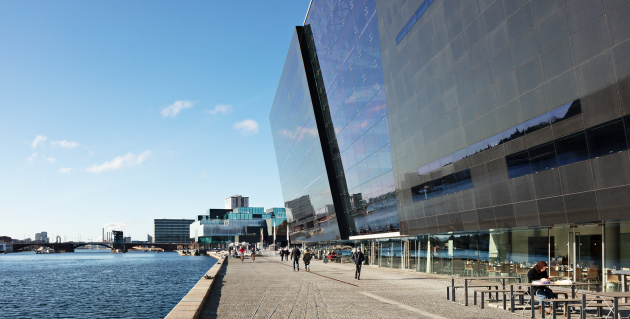 The Royal Danish Library on Søren Kirekegaards Plads is spread over three very different buildings. Facing the water, The Black Diamond (1999), designed by the Danish architect group; Schmidt Hammer Lassen Architects, thereupon, Preben Hansen's narrow extension (1968) in the centre, and at the farthest end, H.J. Holms historical library building from 1906, which is connected to the library garden.
Facts about The Black Diamond
The building is shaped in the way of a sculptural monolith – a chest that holds the library's national cultural heritage.
The building's total volume is 20,733 m².
In all, it contains 450 rooms, 800 doors, all requiring a key – distributed on eight floors.
The fronting of The Black Diamond consists of 2,500 m² Absolute Black granite, mined in Zimbabwe and cut and polished in northern Italy. Each stone weighs 75 kg.