About the building The Black Diamond
Royal Danish Library's buildings on Slotsholmen, better known as The Black Diamond, are more than just a popular library. The buildings have a long history which everyone is welcome to explore.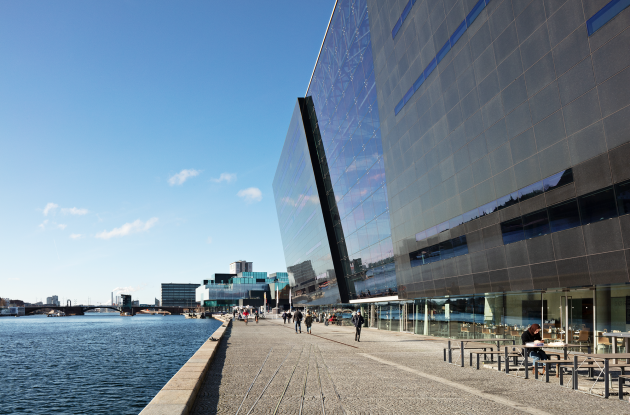 Royal Danish Library on Søren Kierkegaards Plads, Copenhagen extends across three very different buildings. Facing the water is The Black Diamond (1999), designed by the Danish architect group Schmidt Hammer Lassen Architects, in the centre of which Preben Hansen's narrow extension (1968) stands, and at the back is H.J. Holm's historical library building from 1906, which is connected to the library garden.
Facts about The Black Diamond
The building is shaped like a sculptural monolith.
The building's total volume is 20,733 m².
In all, it contains 450 rooms and 800 doors, all requiring a key, distributed on eight floors.
The front of The Black Diamond consists of 2,500 m² Absolute Black granite, mined in Zimbabwe and cut and polished in northern Italy. Each stone weighs 75 kg.
Art for eyes and ears
Both inside and outside the Diamond, there are works of art that can be seen and heard: Most spectacular is Per Kirkeby's 210 m2 large ceiling decoration over the bridge that connects the Diamond with the library's older buildings.
Are you lucky enough to be in the building at 1 pm., the Diamond's central atrium is filled with sound art for a few minutes via a specially designed, built-in 12-channel speaker system. The composer Fuzzy has written the work "CATALOG" with 52 pieces - one for each week inspired by some of the library's greatest treasures.
Outdoors you can see Anne Marie Carl-Nielsen's expressive sculpture "Mermaid" with Olafur Eliasson's poetic "Circle Bridge" as a background. If you take a break on the maritime stairs at Søren Kierkegaards Plads, you can ponder the famous Søren Kierkegaard quote that "life must be understood backwards", which is written in the woodwork by the artist group FA + (Ingrid Falk and Gustavo Aguerre).
Find more works as you move around.