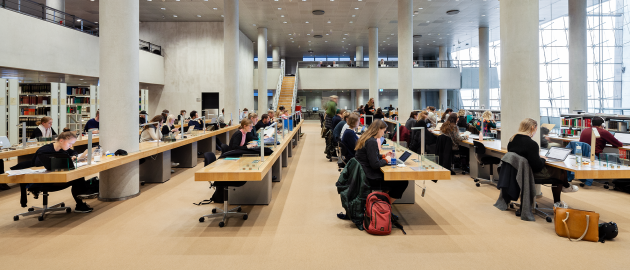 2017
Effective January 1, the Royal Danish Library is a reality, following a merger in which The Royal Library and The State Library are combined. 
In connection with the merger, The Administrative Library and The Danish National Art Library also becomes part of the new library.
1999
At Slotsholmen in Copenhagen, the Royal Danish Library is expanded. From the outset, the new building is referred to as the diamond, and today we know it as the Black diamond.
As such, the capital has a new community centre, one that includes a concert hall and conference facilities.
1938
The State Library is made national superstructure of education to the public libraries, and helps distribute knowledge to the Danish public libraries and further onwards into society.
1924
The Administrative Library, which provides services to public servants in both state and municipalities, is established.
1902
As the State Library opens in Aarhus, Denmark has another library to help preserve the national cultural heritage.
The same year, a new copyright deposit Act comes into force.
1754
The Royal Danish Academy of Fine Arts is founded in 1754 by Frederick V.
1648
The Royal Danish Library is founded by Frederick III.
1482
Copenhagen University Library is founded. It has been three years since Christian I founded the University of Copenhagen.