Art Library
Art Library is situated in Charlottenborg Palace. Here you can use the reading room and borrow material on art and architectural history, art theory, and museology.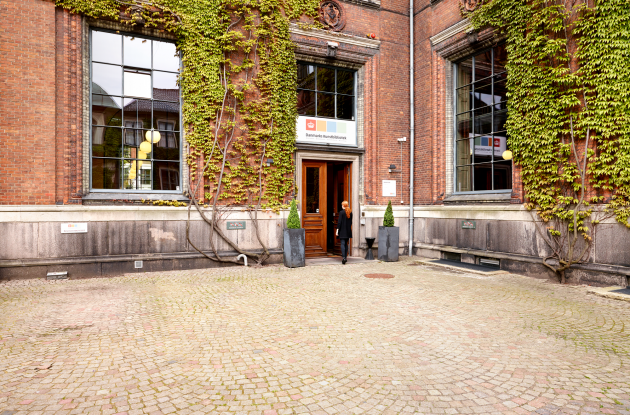 Facilities
Faciliteter
Der er mulighed for at låne et skab i op til to måneder ad gangen, hvor du kan opbevare de bøger, du kun benytter på biblioteket.
Der er også dagsskabe, som du kan benytte med en 20 kr. mønt.
Der er trådløs adgang for bærbare pc'er i hele biblioteksområdet.
Der er direkte, handicapvenlig adgang fra gårdspladsen. Fra bibliotekets centralhal er der lift op til læsesalen og ned til toiletterne i kælderen, hvor der også er et handicaptoilet.
Det er ikke muligt at købe noget at spise eller drikke hos os, men du er velkommen til at medbringe dit eget.
Læg mærke til at du ikke må spise i læsesalen, og drikkevarer skal være med låg.
Studiepladser og læsesale
I Nyhavn er der en stillelæsesal, hvor du kan sidde og arbejde. Det er ikke muligt at reservere pladserne. Læsesalen har desuden en lang række oversigts- og opslagsværker, som du kan benytte.   
I bibliotekets centralhal har vi to borde med otte studiepladser samt to loungeområder med sofaer.  
Vi har et gruppelokale til venstre bagerst i biblioteket. Der er plads til omkring 20 personer. Gruppelokalet kan ikke reserveres. 
Der er desuden pladser på biblioteket, som kan bruges til gruppearbejde, og computere med adgang til digitale ressourcer. Der er strøm ved pladserne i bogsamlingen og læsesalen. 
Vi har en studiesal, som ligger på Transformervej 21b, Søborg. 
Vi har en del materialer, som du kun kan se på studiesalen. Det drejer sig om arkitekturtegninger, kunstnerarkiver, kunsthistoriske arkiver, og lignende arkivmaterialer som befinder sig i magasinet på Transformervej. 
Studiesalen har åbent et begrænset antal dage om ugen og du kan kun besøge den, hvis du har bestilt tid på forhånd.