National Newspaper Collection
The National Newspaper Collection consists of daily newspapers and local newspapers that have been published in Denmark or have direct relations to Denmark.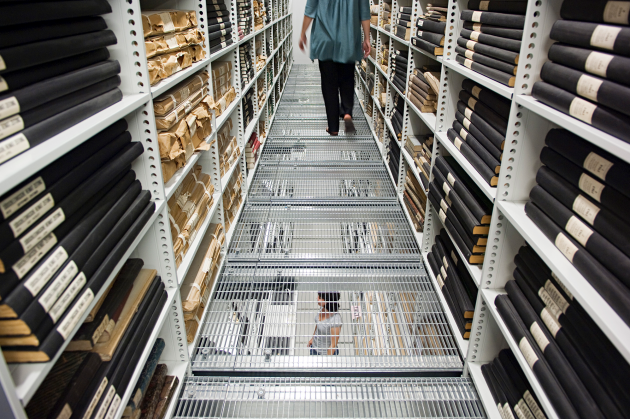 For more than 300 years, newspapers have been an important part of society. They reflect all parts of our lives seen through the eyes of the people living at that time: birth and death, politics and economy, buying and selling, war and peace, accidents and progress. For this reason, we now consider newspapers to be an important source for understanding our history, and as a part of our cultural heritage that appeals to everyone, regardless whether you are a genealogist, student, educator or interested in local history.
The newspaper collection is Denmark's national collection of newspapers and the main collection takes up 24 kilometres of shelving. It is located in Skejby near Aarhus, where our focus is on collecting via copyright deposits (printed and digital newspapers), preserving printed newspapers in a secure building and digital newspapers on secure servers, and finally making the newspapers accessible by digitising and making them searchable on mediestream.dk.
The printed newspapers
The collection of physical newspapers are divided into two main categories: daily newspapers and local newspapers.
Daily newspapers make up 77 million pages and constitute around 5/6 of the collection The oldest newspapers are found in this part of our collection. The Danish Mercurius from 1666 is the oldest, and there are around 1.000 different newspapers that have been published in Denmark over time.
Local newspapers make up 15 million pages spread out on 3.700 titles, many of which are continuations of each other. This type of newspaper became popular in the late 19th century and has grown over time to become an important part of the market for printed advertising and local information.
Reference books
Jette D. Søllinge and Niels Thomsen: De danske aviser 1634-1991 (1991)
Newspapers on microfilm
As early as 1916, the preservation of newspapers was up for discussion: wear and tear, the fragile paper and how to preserve them for posterity. In 1955 the National Library entered an agreement with the company Minerva microfilm, about microfilming a few select major newspapers. From 1976-2015, all published newspapers of that time were continuously microfilmed in a division of labour between the National Library and Minerva Microfilm. In addition, a broad range of old newspapers were filmed for a special retro programme. In general, only daily newspapers were filmed, local newspapers were not.
For many years, microfilms were the best tools for searching, both public and research libraries. In 2005 Minerva was shut down and the job was taken over by the National Library. Microfilming stopped in 2016 and was replaced by digital scanners. However, the microfilms at Det Kgl. Bibliotek are still available for use.