Carl and Anne Marie
The Carl Nielsen archive is key to understanding two prominent artists in Danish history, Anne Marie and Carl Nielsen. The archive also tells about their passionate marriage.
Outside the Black Diamond in Copenhagen, right by the harbour, is a sculpture of a mermaid. It is not The Little Mermaid at Langelinje that tourists flock to. This one lives a slightly quieter life. What many do not know is that it was made by the artist Anne Marie Carl-Nielsen (1863-1945), who was married to the composer, Carl Nielsen (1865-1931). In its own quiet way, it tells of a drama that hides behind the walls of the Diamond. In Royal Danish Library's vaults are the couple's archive.
Their marriage was both stormy and rewarding for both of them. They were ambitious artists in their respective fields, and Anne Marie was in many ways a "modern" woman who saw no reason for her career to give way to her husband's. Among the many letters and notes in the archive is Anne Marie's pros and cons list, which she wrote when she was considering leaving Carl, as are the many letters they wrote to each other. But most importantly, the archive documents two of the period's most important Danish artists.
That we have the archive today, we can thank Carl Nielsen's friends for. Already a few years after his death in 1935, when he would have turned 70, a circle of his closest friends and acquaintances took the initiative to "honor his Personality and Art by founding a Carl Nielsen Archive."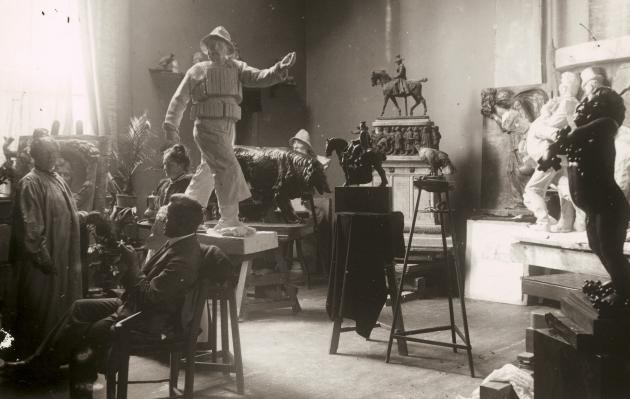 It was Carl Nielsen's student, the composer Knud Jeppesen, who spearheaded the collection. He turned to those who had known and been in contact with Carl Nielsen and encouraged them to submit what they might have of music manuscripts, letters and the like from his hand. This means that Carl Nielsen's archive differs from many of our other archives, as we not only have the letters that Carl Nielsen received, but also many of those he sent to others.
The rest of the archive, which covers both Anne Marie and Carl Nielsen, the library received after the composer's death, and later from Anne Marie Carl-Nielsen's heirs upon her death.