Theatre collection
In the theatre collection, you will find material on a wide range of performing arts, such as dance, theatre, performance art, circus and opera.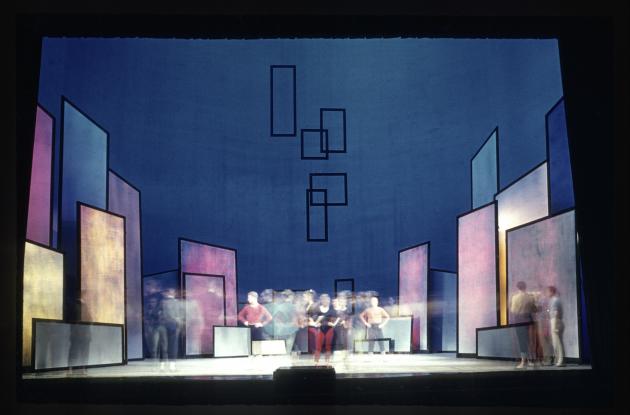 We collect and preserve documentation of the Danish performing arts. These can be, for example, performed unpublished plays, role sheets, instruction books, performance material and personal archives from prominent Danish performing artists.
Understand the collection
You cannot put a performance in an archive box and store it, which is why our collection consists of different forms of documentation. The documentation is either focused on the work, the experience of the work, the creation process or the framework around the performance creation.
Since its establishment in 1939, our collection policy for acting and performing arts has changed from being focused on theatrical manuscripts to being focused on four types of documentation as well as on performing arts in a broader sense.
This means that performing arts-related material is collected by the theatre collection today, where parts of the material have previously been placed in another of the library's collections. Performing arts-related material is therefore spread out across our collections.
Search help
We recommend that you do a free text search in the library system and subsequently narrow down the types of material listed on the left. You can find help in "Get help finding plays and performing arts material" and in the overview of the collection.
Below we have gathered some of the most frequently used sources and where to find them. As a starting point, the materials must be viewed in the Research Reading Room:
More about the collection
The collection covers performing arts broadly. This means that both dance, theatre, performance art, circus and opera is represented. We also purchase recent dramatic literature in English, German and French. Other languages can be ordered on request.
We have about 30,000 play texts in script form. Most are written by Danish playwrights or are in Danish translations. In addition, we have approximately 20,000 printed play texts that are mainly foreign.
We also have an increasing number of performing arts archives from existing and former stages and groups. In the archives you will find performance material, press clippings, administration papers, correspondence, accounts, AV material, photographs and much more.
Since the mid-1960s, we have also systematically collected theatre manuscripts from all major Danish theatres, including the Radio and TV Theatre, and this means that almost 50 Danish theatres regularly transfer their repertoire to the library. Today we collect drama from all theatres and free groups.