Rødstrømper – sisterhood and revolution
In 1970, something new happened in Denmark. A group of women associated with the youth uprising had had enough of doing other people's laundry and meeting society's gender-based expectations.
Rødstrømperne (eng: The Red Stockings) demanded a change in the stereotypical female role and to no longer be defined and limited by the patriarchy. They had found inspiration for the name in The United States, and they aimed to create a new society on a socialist basis without discrimination and oppression. The means were sister solidarity, women's communities, and exploration of women's lives during the patriarchy.
After this, nothing was the same, neither for those who participated, nor for those who did not.
Actions - only launder your own sock, you have damn well laundered enough
The movement started with a series of spectacular actions in the spring of 1970. The first and most famous action consisted of a procession of 12 women walking up and down Strøget in Copenhagen carrying signs with slogans. They were dressed as the stereotypical female ideal with balloons in giant bras, nylon wigs and artificial eyelashes.
After a meeting a few days later at Charlottenborg with about 200 participants, the movement was a reality. Initially, 13 independent action groups were formed, which set about preparing several actions. On 1 May, Rødstrømperne captured the rostrum at LO's (The Danish Confederation of Trade Unions) Labour Day meeting at Rådhuspladsen, Copenhagen to draw attention to the lack of equal pay.
And on Mother's Day, a big meeting was held in Fælledparken. On the way home approximately 30 women refused to pay more than 80% of the price for their bus ticket. The police was called to the scene and the women were arrested and charged. When they were later fined, they refused to pay the fine. The next day, the newspapers were filled with photographs of the women, who were carried off the bus by smiling police officers.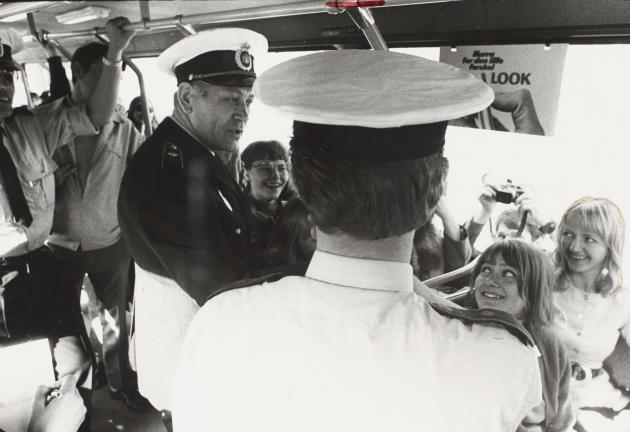 The actions created a lot of attention and became front-page news in the newspapers. In mid-1971, the number of actions decreased. Now the message that something was going on had reached everyone, and Rødstrømperne were concentrating more on recruiting new people for the movement, on doing work for the basic group, the Femø camp, the occupation of the women's house, etcetera.
Read more about Rødstrømperne
On this page, we have collected the extensive material that is available about and by the movement (in Danish).