Sound recordings in the collections
We have a number of different sound recordings in the collections that document the Danish sound history from the first recordings on wax cylinders in 1889 to today's digital releases.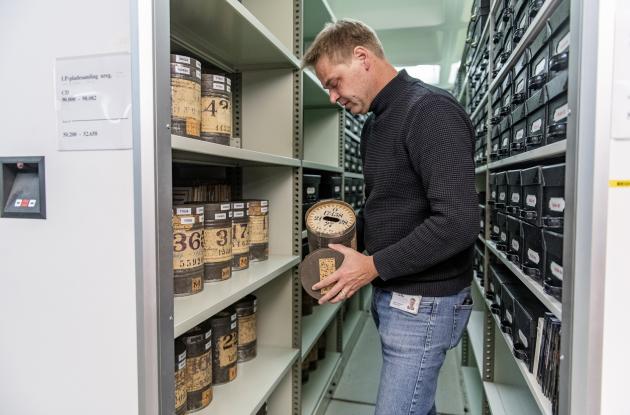 Through donations, gifts, own recordings and purchases, we have collected a number of unique historical sound recordings of speech, song and music. All material recorded since 1889. The collection contains recordings stored on, among other things, wax cylinders, lacquer discs, wire, reel-to-reel tapes and cassette tapes and later vinyl, CDs and digital music. Collection of the recordings takes place as part of our national obligation to collect and preserve the Danish cultural heritage, including Danish sound.
The material is unique, as there is usually only one copy, and often it is recordings that were either originally made or collected by private individuals. We continue to receive the unique sound recordings on the original media, such as cylinders, lacquer discs and reel-to-reel tapes.
The contents of the collections
The library has three main collections within sound recordings: Nationaldiskoteket in Aarhus, the AV collection in Copenhagen and the audio and video recordings in the Folklore Archives.
Nationaldiskoteket in Aarhus
Nationaldiskoteket in Aarhus was established in 1989, when the National Museum turned over its collection of released music. We were also then given a number of unique sound recordings on various media. The collection contains a wide range of material, for example recordings of Danish dialects, ethnographic recordings, speeches, songs, life stories, author interviews, theatre recordings and new Danish composition music.
Prominent collections include:
The Ruben collection - Denmark's first sound recordings from 1889-1895 on wax cylinders
Haslund-Christensen - roughly 219 ethnographic recordings from Mongolia in the period 1927-1939
Workers' remembrances in Aarhus (Aastedet) - life stories of 200 Aarhus workers told in the period 1982-2006
On Dansk lyd you can hear a selection of available recordings.
The AV collection in Copenhagen
The AV collection in Copenhagen primarily contains material after the year 1960. The content is predominantly newer Danish composition music as well as Danish and foreign jazz. This applies to the private collections of composers, musicians or collectors as well as collections from institutions, venues and concert holders.
Prominent collections include:
Folklore Archives
The Folklore Archives has material dating back to around 1900. It contains a large number of field recordings of particularly traditional music from around the world, not least from Denmark, the Faroe Islands and Greenland, but also many from, for example, Iceland, Italy, the Balkans, the Middle East, Japan, India and Oceania.
Prominent collections include:
Shows recorded on wax cylinders in the period 1907-1927, collected by, among others, Evald Tang Kristensen and Percy Grainger
Poul Rovsing Olsen's recordings of pearl fishermen's and Bedouins' music and song in Bahrain
Greenlandic song and drum dance, recorded 1905-1935 by William Thalbitzer and Christian Leden
We have to some extent digitised the unique historical recordings to ensure their preservation for posterity. Common to the many recordings, however, is that they are often subject to copyright and personal data restrictions, which means that we cannot immediately grant free access to them at present.