Judaica collection
The Judaica collection contains manuscripts and books in Jewish languages like Hebrew and Yiddish.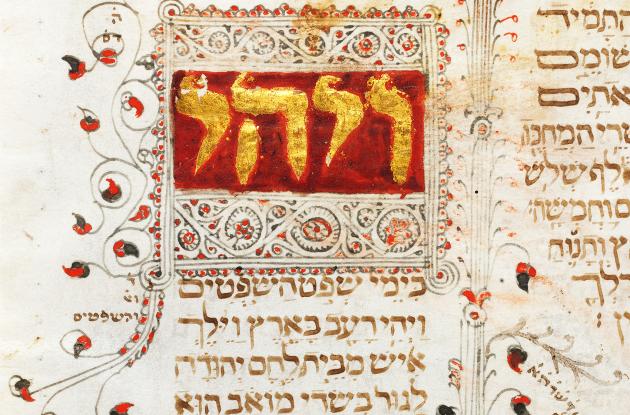 Access to the materials
For general directions on how to search, see How to find manuscripts.
With a few exceptions, the printed materials (books and magazines) are registered in our catalogue and can be searched and ordered from our website; they can either be borrowed or viewed in the reading room.
Our manuscripts in Jewish languages are partly available in digital form as part of the digital collections. Most of the manuscripts that have not yet been digitised can be searched in the library system.
For further information, you can also use the online catalogue of Hebrew manuscripts of the world, created by the National Library of Israel. On their website, go to 'Advanced search' and then choose 'Current location: Copenhagen' and 'Collection: Royal Danish Library, Copenhagen' in the dropdown-menus.
If you have any further questions, please feel free to write to us.
Content of the collection
Roughly 50% of the collection's titles are in Hebrew and the remaining titles are evenly distributed between Yiddish and other (primarily Western) languages.
"The Copenhagen Maimonides" – a manuscript written and illuminated in 1348 in Catalonia. Moshe ben Maimon's (Maimonides, approximately 1135-1204) work Moreh Nevukhim ('Guide for the Perplexed') is a chief work within Jewish (and Medieval) Aristotelian philosophy. It is by far the most famous manuscript in the collection, largely because of its wonderful illuminations (artwork).
David Simonsen's collection of manuscripts and the correspondance archive. Throughout his entire life, Rabbi David Simonsen (1853-1932) collected books and manuscripts important to Jewish culture and history, but also for his work as a rabbi and researcher. Just like the manuscripts, the correspondence of David Simonsen reflects his life and work, especially his work as a philanthropist and provider of economic and practical aid in connection with the First World War.