Judaica Collection
The Judaica collection contains manuscripts and books in Jewish languages like Hebrew and Yiddish.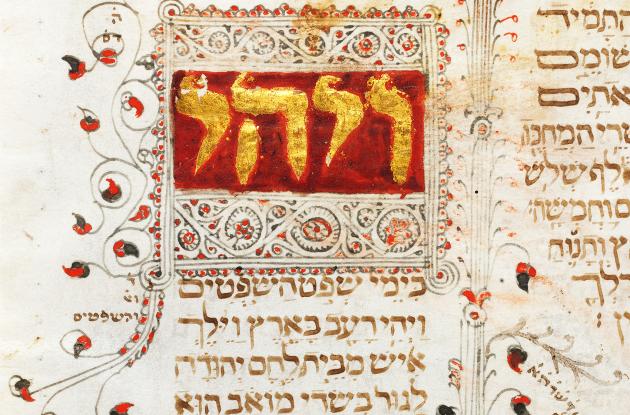 Access to the materials
For general directions on how to search, see How to find manuscripts.
With a few exceptions, the printed materials (books and magazines) are registered in our catalogue and can be searched and ordered from our website; they can either be borrowed or viewed in the reading room.
Our manuscripts in Jewish languages are partly available in digital form as part of the digital collections. Most of the manuscripts that have not yet been digitised can be searched in the library system.
For further information, you can also use the online catalogue of Hebrew manuscripts of the world, created by the National Library of Israel. On their website, go to 'Advanced search' and then choose 'Current location: Copenhagen' and 'Collection: Royal Danish Library, Copenhagen' in the dropdown-menus.
History of the collection
The church's and the university's shared interest in the Hebrew Bible, together with their common interest in possibly dismissing the Jewish interpretation of the texts, is the reason why manuscripts and other material within Judaism and Jewish culture have been included in the library collection from the very beginning. The year 1932 saw the largest addition to the collection, when the collection of Rabbi David Simonsen, containing approximately 200 manuscripts, approximately 20,000 printed volumes and an extensive archive, was acquired.
The collection survived the Nazi occupation of Denmark during the Second World War and was subsequently expanded through donations as a sign of appreciation for the Danish effort in connection with saving Danish Jews.
Content of the collection
Roughly 50% of the collection's titles are in Hebrew and the remaining titles are evenly distributed between Yiddish and other (primarily Western) languages.