Copyright and use of our materials
Find answers to some of your questions about copyright in relation to Royal Danish Library. Please note that we are unable to offer legal assistance.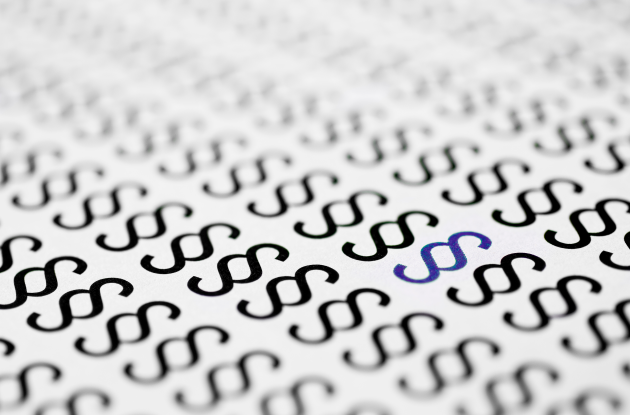 At Royal Danish Library, we would like to make as much of the cultural heritage available to our users as possible, but naturally we comply with Danish legislation such as copyright law. Here you may find answers to some of your questions about copyright, but unfortunately we cannot offer legal advice in connection with copyright or other legislation.
We generally do not own the copyright to the works included in our collections.
Copyright belongs to the creator of a work, such as an author, a photographer or an artist. The creator is referred to as "the author", and copyright law is created so that he can make decisions on his work and possibly earn money from it. It is said that the author has the exclusive right to his work. Some works are created in collaboration between several authors, e.g. several artists, and then the authors have the copyright together.
In general, works in Denmark are protected by copyright law spanning a period from the time the work is created until 70 years after the author's death. During that period, the author or his heirs, if he is deceased, must give permission (consent) if others want to use the work. It also means that the author or heirs may claim a fee when others use their work.
There are in some cases exceptions to the author's "exclusive right". For instance, the law allows for the copying of published works, such as books and journals, for private use.
An author or his heirs can also transfer their copyright to others, such as a publishing house or a record company. Then it is the publisher, the record company or the person to whom the copyright has been transferred to who has the "exclusive right" and must approve your use of the material.
In some cases, authors have sold or donated their copyright to Royal Danish Library, and then of course we give permission to use the material free of charge.
You should always remember to credit the author.
You should be aware that there may be costs associated with digitization if the material has not already been digitized.
Copyright issues can be very complicated and we are unfortunately unable to offer you legal advice on copyright or other legislation.
But we are happy to help with practical guidance and can answer some common, uncomplicated questions about the use of the library's material, e.g. about legal copying for private use, so feel free to ask us at our reading rooms, at our guidance desks or on Ask the library.
We have a special obligation to help employees at the universities of Copenhagen and Aarhus in connection with copyright as we are the universities' library.
Researchers and students at the University of Copenhagen can get advice and guidance from the KUB Copyright Service on +45 91 32 44 27
Researchers and students at Aarhus University can get advice and guidance here:
If you want to read more about copyright, you can find legal literature on copyright in Denmark and in other countries at the library. You can find and order books from us by using the search box at the top of the page. Copyright rules are generally harmonized within the EU, but can vary widely outside the EU.

We can also recommend the following websites: