Herman Bang
Throughout his life, Bang tried balancing his inner emotional life with his artistic work. The two sides of himself were often in conflict, resulting in both great literary works and depression.
Herman Bang (1857-1912) became known in his day as a self-staging writer and metropolitan. The attention surrounding his flamboyant lifestyle was not always easy to navigate, as his barely hidden homosexuality was depicted in the newspapers' grim caricatures. He had to flee several times from his own role as an infamous celebrity.
Throughout his life, he felt that his sexuality was a flaw in his character - in line with the views of the time on homosexuality as a disease that should be treated in the country's mental hospitals.
Versatile author with an eye for the darker sides of life
Bang's extensive authorship includes several collections of short stories such as "Quiet Existences", in which "By the Road" (1886) appears, as well as major novels such as "Tina" (1889) which takes place during the war in 1864. Bang was interested in those quiet existences, and he could, with great tenderness and empathy, describe the psychological development of his characters. His special style cut almost cinematically between different scenes and lines, and with very few words he could unfold great tragedies in human relationships.
Bang also had a very active reporting business. In Nationaltidende, the conservative newspaper of the time, he reported on his many European travels and his life in the city of Copenhagen - both the changing fashion, which he cared about with all his heart, but also on social groups that were otherwise not in focus among the bourgeoisie. Social groups like the sewing girls and the poor people in the mews. He included both himself and his readers in his articles, and with his characteristic writing style he helped to form modern journalism.
Through his narratives, Bang also grappled with his own experiences and identity as he described it in 1884, "that I often, when I wrote about the Others, actually wrote about myself. It was my Hopes when I wrote about a Stranger's, It was so often my sorrow that I clothed as another's. In this place I have often spoken of the most valuable loss of my first youth and the most hidden happiness." ("Changing Themes" March 30, 1884). Read more in Mediestream.
The unrequited love at the theatre
Bang wanted to be an actor in his youth and had a passionate relationship with the theatre throughout his life - as a reviewer, but especially as a screenwriter, director and stage director.
On one of Bang's countless trips abroad, which led him to the theatres in Meiningen, Germany, he met the German actor Max Eisfeld (1863-1935) and with him, he had a short but happy time. The poems he wrote in the years around 1886 exude love, but also the sorrow that came once the relationship broke down. You can for instance read the poem "never again" in Danish. Below is a rough translation.
confused the course of the stream,

And they can never come together,

even if they long for it.

Their own path they must go.

when the other knows the Sun;

when the other's Sky is blue.
The couple were fingered when they lived together in Prague, and then questioned by the police to Bang's great frustration. At the time, it was more common for two women to live together than two men, and the foreign authorities already had Bang in their sights. It was not only Bang's sexuality that was under suspicion, but also the fact that he had written a controversial article about the German emperor and had fled from several bills due to his miserable financial situation. Read Bang's letter from 1886 to his friend Emil Jonas (in Danish), in which he describes his horror at being assaulted by the police with Max.
As a fashionable metropolitan, Bang also had an eye for self-staging and drama. He travelled through Denmark and recited from his texts as modern and quite popular performances. He was always extremely well dressed too. Bang spread his wings in Paris at the theatre and later as a stage director at Folketeatret in Copenhagen, where he fell unhappily in love with the 20-year-younger actor Frederik Boesen (1877-1931), whom he affectionately called "Fritz".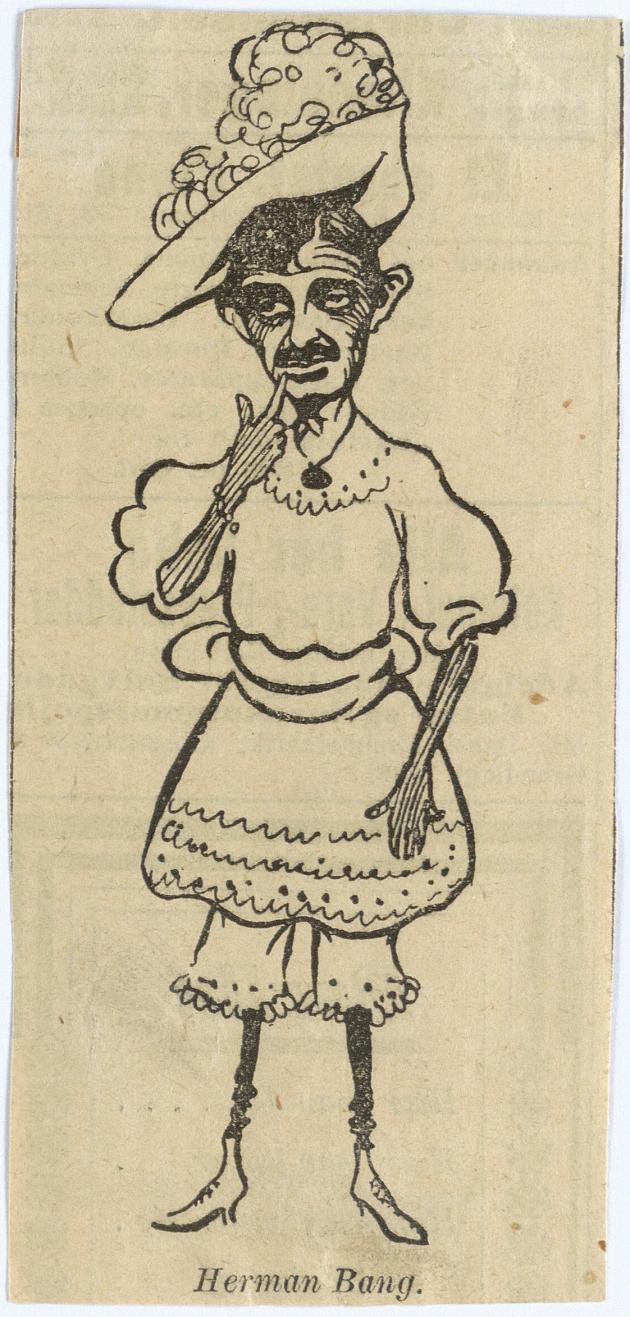 Rejection from his contemporaries
His colleagues in Denmark did not intervene when it came to the criticism of Bang's person and homosexuality. Bang's first and partly autobiographical novel "Haabløse Slægter" (in English: Families Without Hope) (1880) was seized as "immoral" due to the controversial relationship between the young protagonist and his father's former mistress. Bang's reputation caused other writers to distance themselves from him early in his career.
The renowned proponent of modern breakthrough literature, Georg Brandes (1842-1927), believed that Bang possessed a "mediocre missish sense" (Morgenbladet, 1 August, 1883), and the dailies caricatured and ridiculed Bang's eccentric behaviour and unique character and gave him nicknames such as "Miss Hermine Bang" and "Herman Pjank".
Bang often felt compelled to flee the country, and when "The Great Morality Case" unfolded in Copenhagen in the years 1906-07, the homosexual subculture came into the spotlight. On the same occasion, the author Johannes V. Jensen (1873-1950) attacked Bang in Politiken with the following remarks: "A very known Author, who aside from his Abnormality has shown little Talent, has these days reached the point of talk about the National Defense? The poor man, who has hardly ever had a Weapon in his Hand, probably suffers at the moment from Platonic love for a Lieutenant".
Bang left Denmark deeply wounded by the public smear campaign and the authorities' manhunt. He wrote in a letter to his friend Christian Houmark that the country had become accustomed to abusing him - and that he did not believe that society would change.
I would prefer any solution for it to stay here in the country, where my life for thirty years has been a constant struggle against smear and finally against contempt ....
Bang was also questioned in connection with the investigation and risked punishment if the authorities could find evidence of his homosexuality.
Throughout life, inspired by Darwinism's idea of species evolution, Bang regarded his sexuality as a kind of degeneration. With his literature, he sought his own place in life but with an eye to unfortunate fates and the pain of rejection, as he himself experienced it.
At tekster.kb.dk you can read more of Bang's novels and other texts.