Printing and copying
If you come by one of our locations, you can use our systems to print and scan.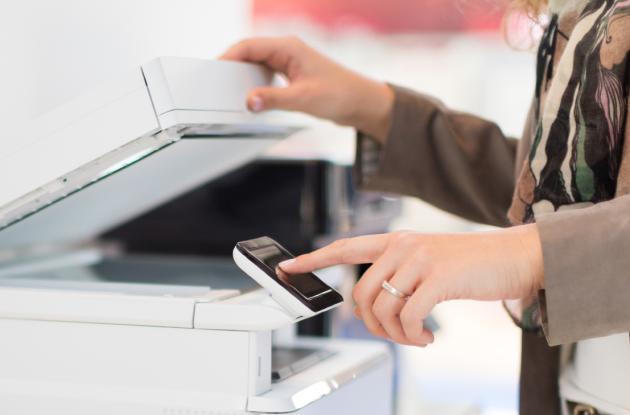 You can print, copy and scan documents via our printing facilities.
You must be registered as a user at the library. Log in with your login ID and PIN.
 
You will find your print account at print.kb.dk. Here you can upload files and transfer money.
Log in to print
Black/White, A4: DKK 0.55 per page
Black/White, A3: DKK 0.55 per page
Colour, A4: DKK 1 per page
Colour, A3: DKK 1 per page
When you are printing on both sides of the paper, the price is doubled.
You need to deposit money to your print account to use our printing facilities. The minimum deposit is DKK 10 at a time.
You have the following payment options:
Dankort/VISA-Dankort
MasterCard
Maestro
VISA
VISA Electron
American Express
JCB
MobilePay
All payments must be made in DKK.
You do not need to pay any transaction fees.
If you do not receive the printout / copies you paid for due to technical problems, you have the option of having the printout / copy replaced by contacting an employee at the library.
The employees decide in each individual case whether there is a basis for releasing the payment for the specific printout / copy, so that you can get a new copy.
Our printers are in different places at all our locations.
At the Black Diamond, printers can be found behind the reception and just after the Kirkeby bridge in the Hansen building. If you have difficulty finding a printer that you are allowed to use, you can always turn to the library guide. See opening hours.
On Victor Albecks Vej, you can contact the Information Office at the main entrance. You will then be guided further from there.
We are always happy to help you if you have any questions.
If the balance on your print account is DKK 50 or more, you can get a refund by emailing Oekonomi@kb.dk. State your name, address and date of birth in the email.
Users without a Danish NemKonto (Easy Account) can collect the refund by appointment. This must be done before departure from Denmark, as we can not offer to transfer that type of amount abroad.
Print accounts without activity will be closed after 1 year. Amounts of 100 DKK and over are paid out automatically if the user has a civil registration number (CPR number) and a Nemkonto is linked.
If you have ordered an article for self-printing via the library system, it must be printed via our printing facilities due to license agreements.
Articles are stored online for 15 days and then deleted.
Library printers also function as copy machines. The price for copying is the same as for printing.
You can also use our Xerox machines as scanners.
You can email your scans to yourself or save them directly to a USB stick.