How to find manuscripts
The library's collection of manuscripts date from the Middle Ages to the present. Some of these are available online and others can be viewed in our reading room.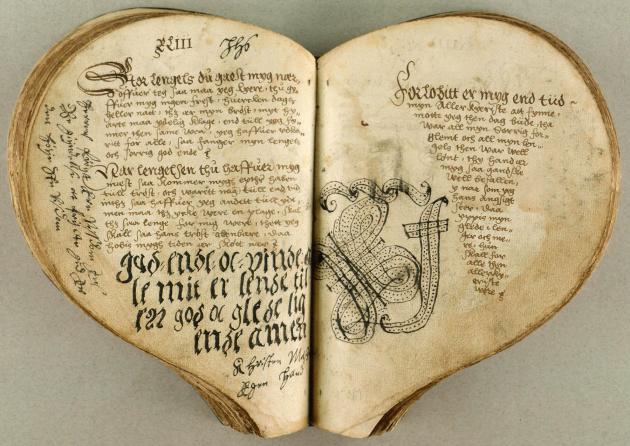 In the collection, you can find:
Manuscripts in different languages

Manuscript scores

Historical records

Documentation of everyday life in the past and

present

Archives belonging to individuals and organisations

...and much more
The manuscripts are all written by hand (or on a typewriter) making them individually unique.
Digitally accessible manuscripts
A small, but growing proportion of the handwritten manuscripts, have been digitised. You can find these by searching on this page, or directly in the digital collections of the library, where new digital materials are made available on an ongoing basis.
Searching the physical collections
Go to search or use the collapsible search field by clicking the magnifier on top of the page

Search e.g., author, title, subject or location mark

Choose "manuscripts" in type of materials under limit results
You can reserve manuscripts by clicking "order".
Occasionally there may be items (volumes, capsules, boxes etc.) included in the search results that you have no interest in. In some instances, there will be an order button for each item.
In other instances, there will only be one order button for the entire archive. In this case, you will need to write in the comments field which unit(s) you want to order. The library intends to have an order button for each individual item.
In general, manuscripts are only accessible in the research reading room in The Black Diamond, Copenhagen. Please note, that the reading room is subject to special regulations.
On rare occasions, the library may choose to reject a reservation e.g. due to fragile materials or size. Some collections are subject to a proviso, meaning that authorisation is required for use.
In general, a maximum of 10 items (e.g. boxes) can be used at a time in the reading room, meaning that large orders may be divided by the staff.
Manuscripts in other languages
When you search for manuscripts in the library system, you are primarily searching through manuscripts in western languages. This may be e.g., Latin, Danish, German, French or English. The search process for manuscripts in either Judaistic or Oriental languages is a little different.
If you are interested in manuscripts in Jewish languages, like Hebrew or Yiddish, these are found in the Judaica collection.
You can search for materials from the Judaica collection by limiting your search results to "Judaica collection" under "Physical special collections" or "Digital special collections".
Please note, that you also need to choose "manuscripts" under "Type of material", if you have no interest in book results from the collection.
If you know of any manuscripts from other sources e.g., a catalogue, but cannot find these in our library system, please contact us through Ask the Library with as detailed information about the manuscript as possible. On our Judaica collection page, you can find information regarding manuscripts, that are not registered in our library system.
Hvis du er interesseret i håndskrifter på orientalske sprog som arabisk, urdu, japansk m.m., så findes de i orientalsk samling.
Du kan søge udelukkende på materialer fra Orientalsk Samling ved at afgrænse dine søgeresultater til "Orientalsk Samling" under "Fysiske specialsamlinger" eller "Digitale specialsamlinger".
Vær opmærksom på også at vælge "Håndskrifter" under "Materialetyper", hvis du ikke er interesseret i bøger fra samlingen.
Kender du et håndskrift fra andre kilder, fx et katalog, men kan du alligevel ikke finde det i vores bibliotekssystem, så skriv til os gennem Spørg biblioteket med så præcise oplysninger omkring håndskriftet som muligt. På vores side om Orientalsk Samling kan du bl.a. finde kataloger over de håndskrifter, der ikke er registreret i vores bibliotekssystem.
Could not find what you were looking for?
There is a large number of printed catalogues, registrants and databases in the collections, that may be a necessary addition to your search. Currently, these can be found on our old website.
If the material still is not found, you are welcome to contact the library staff through Ask the Library. In this case, the delivery time may be longer.