Visit us for Culture Night 2021
Enjoy Culture Night with us when we keep The Black Diamond open until midnight 15 October 2021. The reading rooms close at 5, but with a cultural pass you can visit the rest of the library from 6 pm.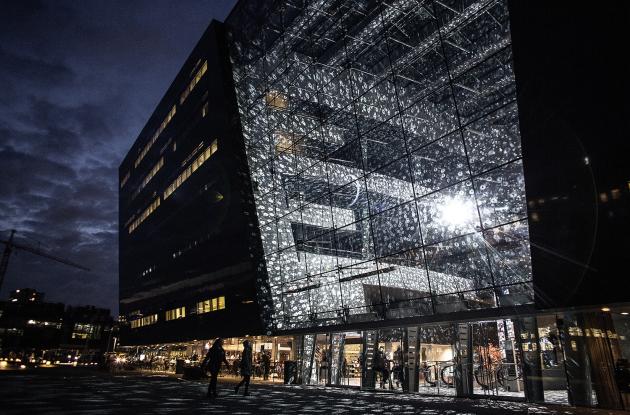 Visit the waterfront's cultural landmark The Black Diamond as we open the doors to a sparkling culture night with live jazz and family activities!
We invite children and adults to join a creative workshop and the treasure hunt "The Great Diamond Hunt". You will be given a map, compass and an hourglass so you can explore the library's secrets in search of the diamond of wisdom!
Also explore the rest of the house and visit the beautiful Old reading room and our fine concert hall, the Queen's Hall.
For children and their adults
The big diamond hunt
In a secret place in the library is the Diamond of Wisdom - a diamond that only the wise can find! Come to the Diamond's atrium and borrow an adventure bag with a compass, a map and a flashlight. Then you will be well on your way.
Workshop: Diamond workshop
Draw, cut and fold your own beautiful diamonds in special glitter paper. Take them home so the fine diamonds can sparkle in the children's rooms.
Music and performances
Jazz in the cafe
In our open café, Mads Mathias, Andreas Svendsen, Johannes Wamberg and Matthias Petri explore different expressions of jazz.
Hear them at 7, 8, 9 and 10 pm.
Food and drinks
Autumn food in the café and salon
Pumpkin soup, apple cake, pastries and snacks - the café and the salon will smell like autumn when Madkartoteket serves dinner as well as delicious snacks for the peckish.
Free admission to the exhibitions
Trine Søndergaard - Works (Rotunden)
Open house in the Diamond means open exhibitions. Come and experience our new special exhibition with internationally renowned photographer Trine Søndergaard, who, through motifs such as man, nature, time and light, lets us see the invisible.
Treasures in Det Kgl. Bibliotek (Above the cafe)
Just above our café and shop you will find our treasure trove, which houses the Diamond's permanent collection exhibition. Here you will find the finest, most beautiful, most important and most valuable of Det Kgl. Bibliotek's treasures - which do you think is the best?
The House
Experience The Black Diamond
Explore our large, spectacular building and experience the contrast between new and old. See, for example, the mirror ball and its star sprinkle in the atrium, the illuminated trees in the Library Garden, or the Old reading room, where many historical cultural personalities have sat and thought big thoughts.