Stranger Than Kindness: The Nick Cave Exhibition
EXTENDED 21 APRIL TO 7 AUGUST: Eight impressive installations with more than 300 objects create a journey into the creative and complex world of musician, storyteller and cultural icon Nick Cave.
"An exceptional exhibition" - Gaffa
"Like being at home with Nick Cave" - Jyllands-Posten
"A moving visualisation of inspiration and love" - Information
"A gigantic and impressive collection which allows us access to the spaces of Nick Cave's life and growth (...)" - Magasinet Kunst
"Lets us into the mind of an artist and impresses (...)" - Politiken
Nick Cave's body of work encompasses a wide range of media and modes of expression, with narrative forms at the heart. "Stranger Than Kindness: The Nick Cave Exhibition" invites visitors to follow Cave's development as an artist – and to gain insight into the overarching themes of his work, his working methods and the many sources of inspiration underpinning it all. Behind each work is an equally fascinating artistic process not originally intended for public view; the exhibition opens up the innermost parts of Cave's creative universe and offers a story of its own.
Stranger Than Kindness
Oplev 'Stranger Than Kindness: The Nick Cave Exhibition' i Den Sorte Diamant
"Stranger Than Kindness" tells the story of Cave's childhood in the 1960s Wangaratta, Australia, the chaotic years with his first bands, The Boys Next Door and The Birthday Party, and about his move to Berlin and later on London. Placed in the center is the constantly renewing collaboration in Nick Cave & The Bad Seeds, from the early days of the band during Cave's most intense period in Berlin to their latest release Ghosteen (2019), by many believed to be their best album ever. The exhibition reveals how Nick Cave's life, music, personal archives, and fiction are constantly woven together, enlighten and inspire each other.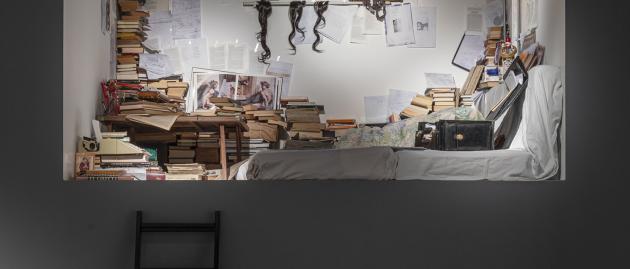 In collaboration with Cave
"Stranger Than Kindness" was developed in close collaboration with Nick Cave with the intention to create a number of three-dimensional installations which allow the audience full access to the artist's mind and creative process. It is a sensuous physical story, where the space and design of the exhibition become an extension of the many stories in Cave's life and works.
 "Stranger Than Kindness" balances between the voices of the curators and the voice of the artist. Cave's close collaboration with the curators has resulted in a unique interpretation of the so-called biographical exhibition, which offers the oportunity to experience Nick Cave's material, objects, life and stories in a new way. It is a fusion of biography, autobiography and fiction all combined in a spacial story - an invitation to explore the creative mythical universe of an artist.
Nick Cave about the exhibition and the collaboration:
"When the Royal Danish Library contacted me with the idea of a "Nick Cave Exhibition" I was reluctant to get involved. I am not nostalgic by nature and I had no time for a trip down Memory Lane. But the team at the library were clearly serious people with a wonderful infectious energy and they drew me in! We created an exhibition that is unlike anything that has gone before, its feet rooted in the past but that reaches into the uncertain future. In the end we were able to put together an exhibition of extraordinary detail that commented on the fragile and vulnerable nature of identity. I am so proud to be a part of this unique and unorthodox exhibition—a shattered history we called Stranger Than Kindness." 
Along with his musical collaborator for many years, Warren Ellis, Cave has also composed and recorded a 800 m2 soundscape for the exhibition which both supports and contrasts the physical exhibition across the eight rooms of the exhibition.
The exhibition also contains two installations created in collaboration with the artists Iain Forsyth and Jane Pollard who wrote and directed the Nick Cave movie "20.000 Days On Earth", which was nominated for a BAFTA in 2014.

The exhibition was developed and designed by Christina Back, Det Kgl. Bibliotek and Janine Barrand, Arts Centre Melbourne in collaboration with Nick Cave for The Black Diamond, Copenhagen. The exhibition was produced in collaboration with Australian Music Vault, Arts Centre Melbourne.
"Stranger Than Kindness: The Nick Cave Exhibition"
8 June 2020 - 7 August 2021. Please book a time slot - entrance requires valid COVID-19 passport.
Monday-Friday 10 am - 7 pm, Saturday 10 am - 6 pm, Sunday closed.
Please note that it is not possible to buy tickets after 5.15 pm (Saturdays until 4.15 pm).
Tickets: DKK 90, students: DKK 75, children and young people under the age of 18: DKK 15. Free for members of Diamantklubben - sign up here
Practical information
Access to The Black Diamond requires a valid COVID-19 passport.
Before visiting the exhibition please place jackets and bags in one of our lockers for safety reasons.
It is not possible to bring prams and strollers inside the exhibition. Please contact our staff for help in finding a safe place to park. 
Reduced capacity - to ensure the comfort and safety of our guests, entrance to the exhibition is based on pre-booked timeslots and the hourly capacity has been reduced well below the maximum allowed for the space.