Manuscript Department
The Royal Library's Manuscript Department contains manuscripts which range from the early middle ages to the present. The manuscripts are primarily, though not exclusively, related to European and especially Danish, history, literary and cultural history.
The holdings of the Department fill more than four and a half shelf kilometres of parchment and paper manuscripts. Each individual document is an irreplaceable treasure whether it be an illuminated manuscript, a letter, diary, notes or other papers. The general public has only access to these documents in the Reading Room of the Center for Manuscripts and Rare Books.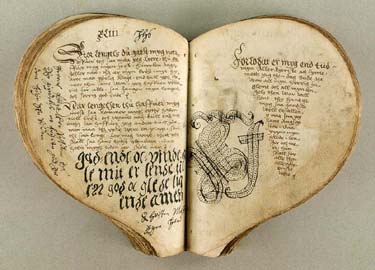 The so-called "Heart-Book" from the 1550s is the oldest Danish ballad manuscript. Read more here.
However, the Manuscript Department is not the only place in Denmark where the above mentioned types of materials and private archives can be found. Among other places there is a small manuscript collection as well as a collection of papers in the Women's History Archive at the State and University Library in Århus. The National Archives, The Labour Movement's Library and Archives and several local archives also contain collections of private archives.
There is a time-honoured tradition of division of labour among Danish archives. As a rule the Royal Library's Manuscript Department receives documents left by individuals within the arts, culture, the humanities and all branches of science, whereas the department of private archives of the National Archives collects documents left by politicians and civil servants. The Library and Archives of the Labour Movement preserves the papers left by labour movement personalities. The collection of papers in the Women's History Archive at the State and University Library in Århus has functioned as a national archive in that field since 1988.
The National Archives and the various archives of local history may also contain archives or personal papers of the sort the Manuscript Department views as its task to preserve for posterity. However, today the mere physical dispersion of personal papers worth preserving among the archives and the Royal Library is not the main problem. The overriding concern today is the preservation of the papers.
The Royal Library
Manuscript Department 
Box 2149
1016 Copenhagen K
Denmark
Tel. +45 3347 4416
E-mail: cmb@kb.dk