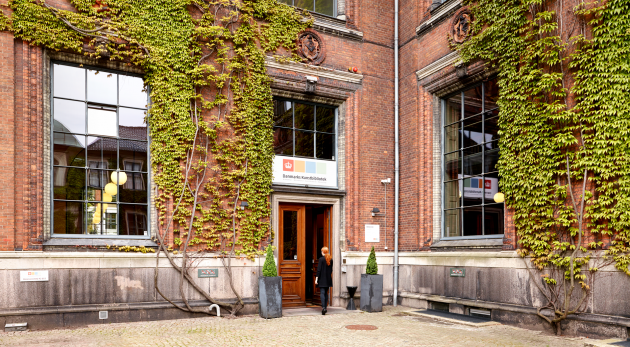 Facilities
Reading room and study area
In the library's reading room you can sit and work. A  wide range of overview and reference works are also available for use here. Please note that the reading room is a quiet area. 
Furthermore, the library has areas used for group work, lounge areas with sofas and computers, that have access to electronic resources. The seats by the book collection and in the reading room have power outlets nearby.
Lockers
Lockers can be borrowed for up to two months at a time. In the lockers, you can keep books that you only use at the library.
 
Wi-Fi
Laptops have access to Wi-Fi in the entire library area.
Access for people with a disability
We have direct handicap access from the courtyard. In the central hall of the library, there is a lift leading to the reading room upstairs and to the toilets in the basement, which also include accessible toilets.
More information
If you need further information, you can find out more on kunstbib.dk