#DKgame - Danish computer games from 1960s to 2020s
Exhibition on the history of Danish computer games. This year's major special exhibition in The Black Diamond focuses on computer games as cultural heritage.
The reviews are in
"Royal Danish Library presents a colourful and delightfully noisy summer holiday hit of an exhibition for everyone who has ever held a controller in their hand." - POLITIKEN
Computer games are the digital age's very own medium. A form of cultural expression and an art form in itself. A billion-dollar industry and an ecosystem with associations, events, training and production support. A part of every Dane's everyday life - and a part of the Royal Danish Library's collections.
A universe of imagination, community and research
In #DKgame - Danish computer games from 1960s to 2020s, we zoom in on the history and importance of computer games to our lives. Based on the library's collection of more than 4,000 Danish-produced computer games from the 60s to the present day, the exhibition pays tribute to the internationally recognised and often experimental, playful and narrative Danish computer games.
The exhibition delves into the history of Danish computer games as a universe of imagination, community and research. In the exhibition, you can dive into the fascinating universes of computer games, explore the impact of computer games on other parts of our lives, hear the researchers' take on how "gamification" affects our everyday life and, not least, try playing games from five decades - from Skærmtrolden Hugo to the VR game What the Bat?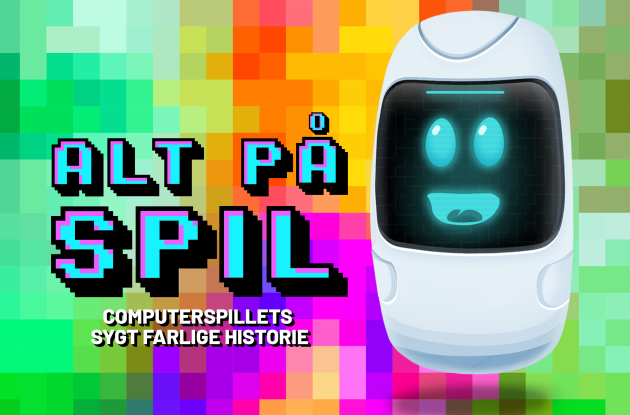 Play your way through the exhibition
Computer games do not belong at the Royal Danish Library. Or do they? Download the Danish app game Alt på spil - Computerspillenes sygt farlige historie and meet the artificial intelligence Chit Chat. Chit Chat tries to convince you that games are harmful. Do you agree with the artificial intelligence or do you shut him down?
Download the Useeum app and find the game for free via this link.
The game works for both iPhone and Android.
In cooperation with partners and foundations
The exhibition has been created in close collaboration with a large number of partners within Danish computer game culture such as Spilstøtteordningen (DFI), game researchers from the IT University and the University of Copenhagen as well as industry players such as Triband, Astralis, SYBO Games and IO-Interactive.
#DKgame - Danish computer games from 1960s to 2020s is supported by the Augustinus Foundation, the Aage and Johanne Louis-Hansen Foundation, the Knud Højgaard Foundation, the Beckett Foundation and Consul George Jorck and Wife Emma Jorck's Foundation.
Events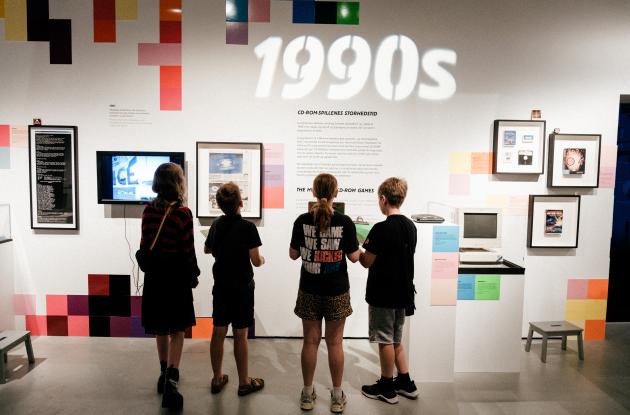 Danish computer games are a success story. Take a tour of the special exhibition #DKgame and hear the story of both the artistic and commercial success.
Experience Troldspejlet live in the Queen's Hall and compete against Astralis'; women's team on the occasion of this year's big special exhibition #DKgame - Danish computer games from 1960s to 2020s.