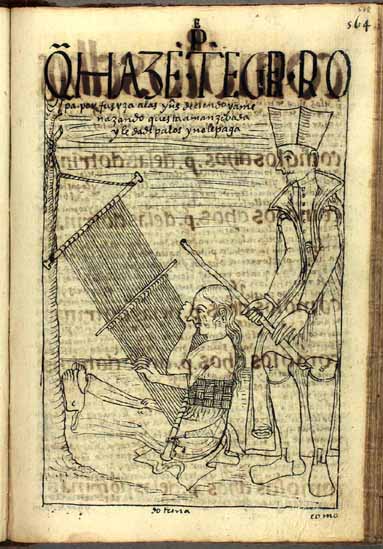 Drawing 227. The parish priest threatens the native weaver who works at his command.
564 [578]
Q[VE] HAZE TEGER ROpa por fuerza a las yndias, deciendo y amenazando questá amanzibada y le da de palos y no le paga1.
/ dotrina /
P[adres]
Compárese lo que dice al respecto el virrey Mendoza y Luna en su relación: "Es menester velar mucho desde luego en que todo género de gente haga buen tratamiento y paga a los indios de quien se siruen, castigando con vigor qualquier excesso. Eme uisto a ueces apretado cerca desto en las haciendas de algunas regiones y sobre pendencias que tenían con sus reinos los que las administrauan, que de ordinario suelen ser gente lecenciosa y sin las obligaciones de hábito aunque le visten como donados" (Gl. kgl. Saml., 589, 2°, f 23 r). [2004:] Véase en este sitio el facsímil del manuscrito de Montesclaros, Luz de materias de Indias [Documento].