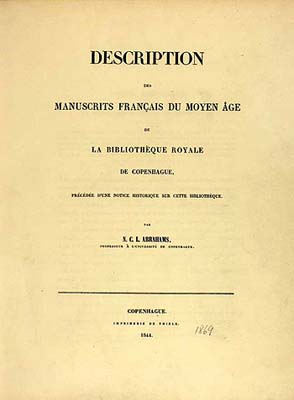 N.C.L. Abrahams: Description des manuscrits français du moyen âge de la Bibliothèque Royale de Copenhague (1844).

N.C.L. Abrahams (1798-1870) was a professor of French literature at The University of Copenhagen. Today he is primarily known for his collection of letters and literary manuscripts, of which the Danish part was bought by The Royal Library after his death.

His catalogue of the French medieval manuscripts of The Royal Library from 1844 is the first and only collected description.

XVI p. + 152 p. + 3 illustrations.