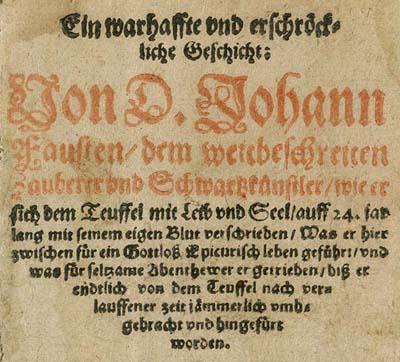 The story of Doctor Faustus who in his quest for knowledge sells his soul to the devil, then travels around the world and indulges in all sorts of excesses, was printed for the first time in Frankfurt am Main in the autumn of 1587. It was an instant success. Already in January 1588 a second, rhymed, edition was published, the so-called Reim-Faust. Author of the rhymes was a student of theology, Johannes Feinaug, who had been commissioned to do the task by the Tübingen publisher Alexander Hock. This book exists in one copy only, belonging to the Royal Library, and now it is published as a digital facsimile.

Faustus was translated into numerous languages. The first Danish translation was printed, as the Reim-Faust, in 1588.

The Reim-Faust of the Royal Library has been reproduced in facsimile containing a postscript by Günther Mahal: Der Tübinger Reim-Faust von 1587/88. Aus dem Prosa-Volksbuch "Historia von d. Johann Fausten" (1587) in Reime gebracht von Johannes Feinaug (Jürgen Schweier Verlag 1977).