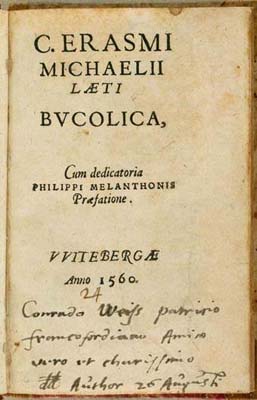 The Danish Latin poet Erasmus Lætus (1526-1582) - in Danish Rasmus Glad - spent about a year, 1559-1560 in Wittenberg, where he studied with Philipp Melanchthon and became doctor of theology.

Here he also published his first collection of poetry, the Bucolica, which consists of seven pastoral poems. Like their classical models, Lætus's pastoral poems are situated in idyllic landscapes - such as Valby Bakke outside Copenhagen - where shepherds with Greek names engage in debates on philosophy and politics.

The collection is dedicated to the Danish king, Frederik II, who had recently succeeded his father on the throne. The preface is written by Philip Melanchthon. He here recommends Lætus to the king, emphasizing his learning and piety.

This copy bears a dedication from the author to Conrad Weiss (1536-1575), a Frankfurt patrician whom Lætus apparently visited during his stay in Frankfurt i 1573-1574. The Royal Library owns a considerable number a books that have been in Conrad Weiss's possession.